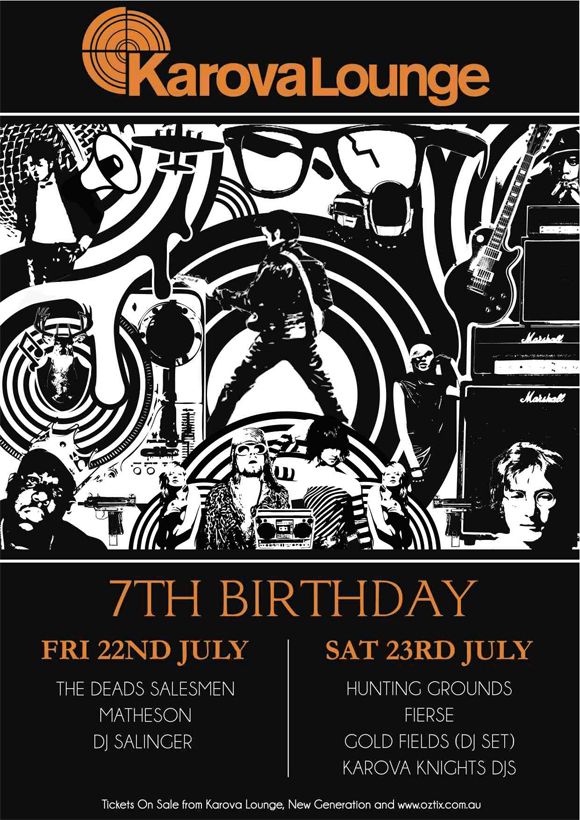 Karova Lounge Turns 7
Arguably one of regional Australia's best lives music venues, Karova Lounge turns seven this month. The Ballarat venue has hosted an impressive line up of acts over the years including Wolfmother, Ben Kweller, Girl Talk, You Am I, Okervil River, Art Vs Science, and Something for Kate.
More recently chart-toppers Washington, Children Collide, The Middle East, Ruby Rose and Miami Horror have played the venue. The stage has also proved a popular first stop for a plethora of up-and-coming local acts such as Epicure, Yacht Club DJs and Hunting Grounds. In 2010, Karova Lounge was named Best Entertainment Venue in Victoria at the Australian Hotel Association awards, and is a contender to take out the national award announced this August in Sydney.
To celebrate, Karova is hosting a banging birthday weekend and both nights will be jam packed with Ballarat's finest.
Headlined by the old and the new generations, Friday night features Dead Salesmen and Matheson, with Hunting Grounds on Saturday night. From a strange little acoustic duo to a four-piece with a harder edge, The Dead Salesmen emerged from the 1980s a much louder and stranger beast.
Their debut record Jealousy was borne during a summer where the act felt bulletproof. A product of Ballarat's infamous Bridge Mall Inn era, The Dead Salesmen enjoyed a decade in the sun before pulling up stumps at the start of the 21st Century. A coincidental meeting at a wedding 12 months ago led to a reunion and the re-release some of their work. Then, much to their surprise, they were asked to play at the 20th Meredith Music Festival last year, and a whole new generation of music lovers fell for their sweet union of light and shade, ballads and scream fests.
On Saturday, Ballarat's bratty breakout sons Hunting Grounds will bring their frenetic sound to the stage, all weighty keys and thumping beats. Hunting Grounds can be described as garage‐disco‐ funk‐punk on the grandest, sexiest, most insane scale. With their arrival as HOWL in the annals of triple j's Unearthed High as winners back in 2009, their single Blackout launched their career, and they've hurled themselves at stages and studios with equally desperate fervor ever since.
Their EPs Howl and Brothers In Violence have received a hammering of airplay and the six-piece has earned serious respect on the touring circuit with a schedule even hardened veterans would wince at.
With a debut album on the horizon and an unquenchable desire to perform live, there's no telling where this is all going.
Coming up at Karova Lounge Children Collide, Eagle and the Worm, Calling All Cars, Glenn Richards (Augie March), Clare Bowditch and Stonefield.


SEARCH FOR TICKETS NOW


| | | | | | | |
| --- | --- | --- | --- | --- | --- | --- |
| 22.July.11 | | Friday Night - The Dead Salesmen | | NSW | | |
| | | | | | | |
| --- | --- | --- | --- | --- | --- | --- |
| 23.July.11 | | Saturday Night - Hunting Ground | | NSW | | |