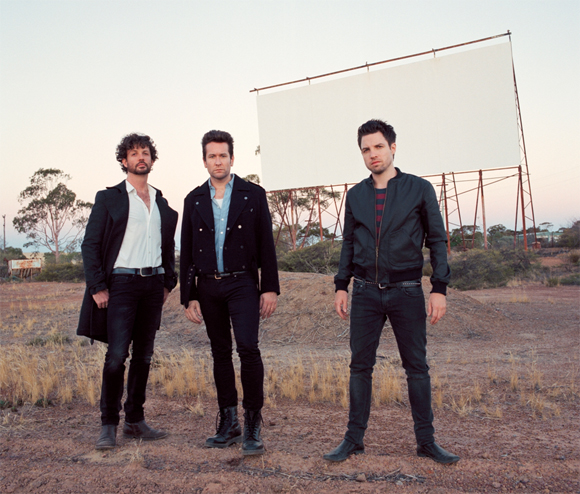 Eskimo Joe
After a sold out run of acoustic shows in May, Eskimo Joe will be hitting the road again this September and October for a national tour to celebrate the launch of their eagerly awaited fifth studio album GHOSTS OF THE PAST.
After recording the album on the NSW Central Coast, the boys from Freo can't wait to get back on the road to give their legion of fans a taste of new music and deliver a show in true Eskies style which has made them one of Australia's most loved live bands.
Kav - "We're really looking forward to taking the intimate moments from our shows in May and presenting them on a larger stage."
For a limited time only, on the Eskimo Joe website, fans can order their tour ticket, a tour ticket and pre-order deluxe copy of the album, or a very special VIP ticket which includes priority entry to the venue, a deluxe copy of the album on release as well as an intimate acoustic performance and meet and greet session.
To order yours head to www.eskimojoe.net
Eskimo Joe will kick off the tour at Splendour In The Grass on July 29, before heading to Qld, NSW, Vic, and WA.
While Tasmanian and South Australian Esky fans should stay tuned for a special announcement in the following weeks.


SEARCH FOR TICKETS NOW


| | | | | | | |
| --- | --- | --- | --- | --- | --- | --- |
| 14.Sept.11 | | The Andergrove Tavern, MACKAY | | QLD | | |
| | | | | | | |
| --- | --- | --- | --- | --- | --- | --- |
| 15.Sept.11 | | Magnums Hotel, AIRLIE BEACH | | QLD | | |
| | | | | | | |
| --- | --- | --- | --- | --- | --- | --- |
| 16.Sept.11 | | The Great Western, ROCKHAMPTON | | QLD | | |
| | | | | | | |
| --- | --- | --- | --- | --- | --- | --- |
| 17.Sept.11 | | Sugarland Tavern, BUNDABERG | | QLD | | |
| | | | | | | |
| --- | --- | --- | --- | --- | --- | --- |
| 21.Sept.11 | | Uni Bar, WOOLLONGONG | | NSW | | |
| | | | | | | |
| --- | --- | --- | --- | --- | --- | --- |
| 22.Sept.11 | | The Cube, CAMPBELLTOWN | | NSW | | |
| | | | | | | |
| --- | --- | --- | --- | --- | --- | --- |
| 23.Sept.11 | | Bar On The Hill, NEWCASTLE | | NSW | | |
| | | | | | | |
| --- | --- | --- | --- | --- | --- | --- |
| 24.Sept.11 | | Enmore Theatre, NEWTOWN | | NSW | | |
| | | | | | | |
| --- | --- | --- | --- | --- | --- | --- |
| 29.Sept.11 | | The Forum, MELBOURNE | | VIC | | |
| | | | | | | |
| --- | --- | --- | --- | --- | --- | --- |
| 30.Sept.11 | | Pier Live, FRANKSTON | | VIC | | |
| | | | | | | |
| --- | --- | --- | --- | --- | --- | --- |
| 05.Oct.11 | | Plantation Hotel, COFFS HARBOUR | | NSW | | |
| | | | | | | |
| --- | --- | --- | --- | --- | --- | --- |
| 06.Oct.11 | | SCU Uni Bar, LISMORE | | NSW | | |
| | | | | | | |
| --- | --- | --- | --- | --- | --- | --- |
| 09.Oct.11 | | The Tivoli, BRISBANE | | QLD | | |