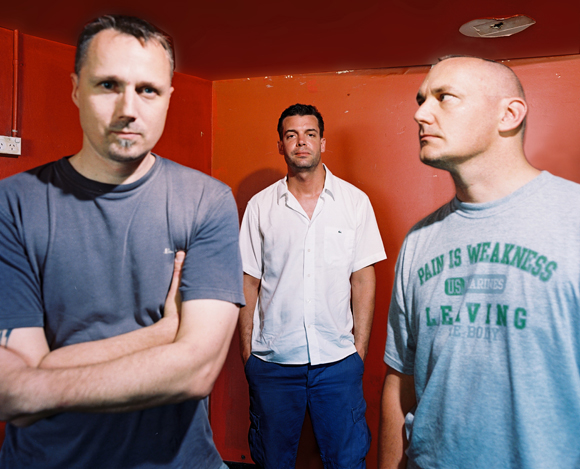 The Mark Of Cain

New Album – Songs Of The Third & Fifth
In store independently late 2011
In early 2008 brothers John and Kim Scott met up with drummer John Stanier in Adelaide, after his band, Battles completed the national Big Day Out tour.
The trio entered Broadcast Studio to begin work on their fifth studio LP. In 2011, after years of writing, recording, finding time around day jobs, day-to-day life and refining across continents, Songs Of The Third & Fifth is almost ready to be released.
Produced by the band, recorded in Adelaide and mixed by Forrester Savell (Karnivool, Cog, Birds Of Tokyo) in Melbourne, Songs Of The Third & Fifth will be The Mark Of Cain's first release in ten years.
The first single will be released digitally in August, the album towards the end of the year. There are plans for the band to tour nationally early 2012.
Keep your eyes peeled to www.tmoc.com.au or follow the band www.twitter.com/themarkofcain
One of Australia's most uncompromising bands, The Mark Of Cain have taken their time to deliver the next chapter in their rich hard rock story.
Good things come to those who wait…aural greatness is about to be bestowed upon fans of The Mark Of Cain in 2011 to reward their patience.
"It's been a hard couple of years and I never expected the album to take so long to complete but we are now coming to its final moments before it is thrust into the world for better or worse. Most musicians always think/say that their most recent recording is their best - I can understand that as it's the most tangible piece of art they've been close to, but also, I know in my heart that this album is the best thing we have ever done." John Scott