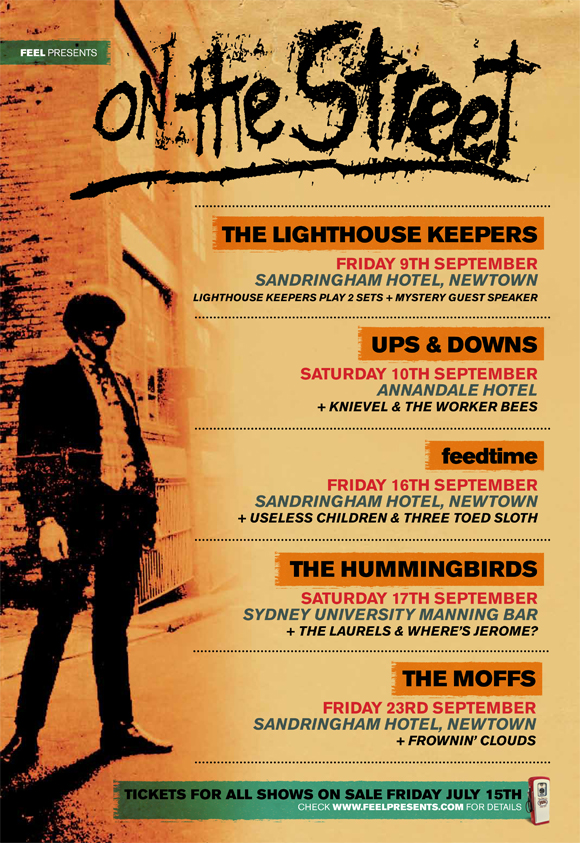 ON THE STREET
There's been a lot said and written about Sydney's inner-city music scene of the eighties and early nineties - and rightly so.
For many it represented the city's most fertile period of musical activity and produced an amazing array of talent who, if they didn't achieve mainstream success or particularly lengthy careers, left a legacy large enough to be considered news-worthy so long after the event.
Feel Presents has long been a supporter of this era having released two volumes of the 2CD collection Tales From the Australian Underground: 1976 - 1990 alongside various single band compilations - Sunnyboys, Happy Hate Me Nots, Sekret Sekret among them - as well as promoting tours for Radio Birdman, The (original) Saints, Died Pretty, Laughing Clowns and more.
This time around Feel are showing their support for the era via a series of live shows entitled On the Street (a term familiar to all discerning gig goers of the time) and together with the Sydney Fringe will present a month of gig-going activity recalling that recalls those heady times.
But it's not all about fond memories with support coming from a selection of bands carrying on the traditions of these pioneers, eager to keep the flame of the originals alive.
Got you highlighter out? Here's the gig guide.


SEARCH FOR TICKETS NOW


| | | | | | | |
| --- | --- | --- | --- | --- | --- | --- |
| 09.Sep.11 | | The Sandringham Hotel, NEWTOWN | | NSW | | |
| | | | | | | |
| --- | --- | --- | --- | --- | --- | --- |
| 10.Sep.11 | | Annandale Hotel, ANNANDALE | | NSW | | |
| | | | | | | |
| --- | --- | --- | --- | --- | --- | --- |
| 16.Sep.11 | | The Sandringham Hotel, NEWTOWN | | NSW | | |
| | | | | | | |
| --- | --- | --- | --- | --- | --- | --- |
| 17.Sep.11 | | Manning Bar, SYDNEY | | NSW | | |
| | | | | | | |
| --- | --- | --- | --- | --- | --- | --- |
| 23.Sep.11 | | The Sandringham Hotel, NEWTOWN | | NSW | | |