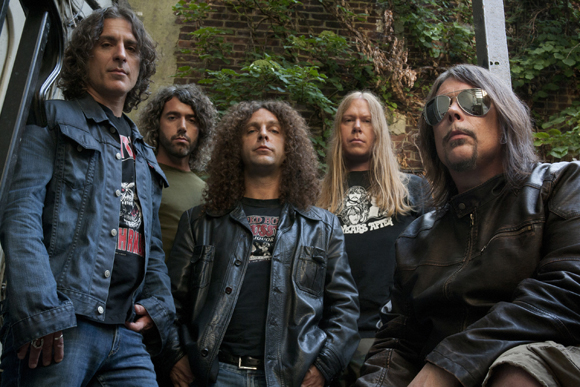 MONSTER MAGNET
Lock up your daughters and strap yourself in for the ultimate sonic powertrip through time; Monster Magnet return to Australia this September to reignite the eternal majesty of their brand of galactic, mind-warping rock debauchery.
To say New Jersey five-piece Monster Magnet defined a genre seems a slight understatement. As many know, they unleashed an untamed beast in the mid 90s that still roams the bowels of hefty amps across the land, pushing capacities to their limits.
Their unique blend of grungy galactic doom and throbbing psychedelia spawned many imitators during their reign and in a time when rock and roll was wildly fanciful, dripping with excess and boundaries were being pushed, Monster Magnet led the charge in decadent, unharnessed, stadium rock.
The defining album of Monster Magnet's career is surely the breakthrough release Dopes To Infinity, which saw the band transcend the clutches of an adoring underground fan base and tantalise an unsuspecting mainstream audience with their behemoth riffs.
Featuring lead single Negasonic Teenage Warhead, the 1995 album created a soundtrack for a generation that was "sexy, dark, melodic, celebratory and, above all, huge"- Rolling Stone.
After blowing thousands of unsuspecting minds with their wall-of-rock assault on Soundwave earlier this year, Monster Magnet are returning to take you on a thunderous journey even further into the vortex - to the climax of ROCK!
Watch the groupies form an orderly queue this September when Monster Magnet return to shake Australia to it's very foundations, this time reliving Dopes To Infinity in it's entirety as well as performing a selection of their greatest hits.
Founder and renowned frontman Dave Wyndorf reached out to his Australian fans with this explanation:
"When I wrote "Dopes" in 1995 I envisioned a hard-rock, tripped-out journey exploring the many sounds and styles of the "great psychedelic era of 1968-1974″. I carefully sequenced the album to take the listener on a "roller-coaster ride" of engaging words and music. I sang songs of love, hate, lust, joy and desperation in a style I hoped would fire the listener's imagination, bringing the everyday emotions that we all share to mythical heights.
Thankfully, the fans and critics told me I succeeded. Now I'd like to bring that experience to the stage. "Dopes To Infinity": Live! In it's entirety. A complete trip from beginning to end. I can't wait!" –Dave Wyndorf. 27/5/11
Monster Magnet Dopes To Infinity Australian Tour
On Sale Friday July 8 at 9am


SEARCH FOR TICKETS NOW


| | | | | | | |
| --- | --- | --- | --- | --- | --- | --- |
| 11.Sept.11 | | Captiol, PERTH | | WA | | |
| | | | | | | |
| --- | --- | --- | --- | --- | --- | --- |
| 14.Sept.11 | | The Metro Theatre, SYDNEY | | NSW | | |
| | | | | | | |
| --- | --- | --- | --- | --- | --- | --- |
| 16.Sept.11 | | Palace Theatre, MELBOURNE | | VIC | | |
Need your live music fix?
Search for THE TREWS here.
Touring September - October 2011

Search for TRIAL KENNEDY here.
Touring July - October 2011

Search for DEAD LETTER CIRCUS here.
Touring August - October 2011