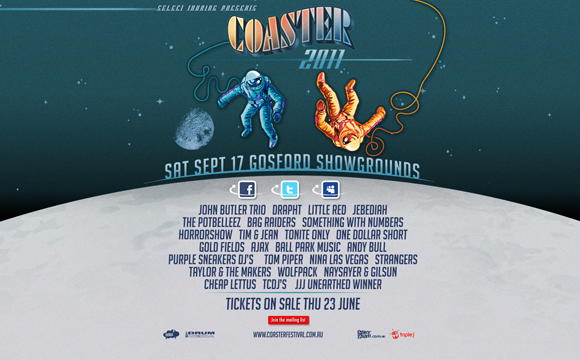 COASTER
Some people give linen and silk on their fourth anniversary, others give fruit and flowers, here at Coaster we are presenting you with a gift basket full of the best local talent, picked fresh from musical trees around the country.
Coaster are taking a leaf out of the sustainable movement handbook and shopping locally. In 2011 Coaster is cooking up delights from the growing sounds we found in our own backyard with an all-Australian line up.
Coaster have hand picked some of the best live performers from as far flung as WA, with festival favourites John Butler Trio, Jebediah, Drapht and Tim and Jean, across to Melbourne to grab Little Red, a quick stop off in rural VIC to add a dash of Gold Fields, through Sydney for a sprinkling of The Potbelleez, Bag Raiders, Tonite Only, and Andy Bull, reaching up to Brisbane to harvest QLD's next big things Ball Park Music, finishing off with a smattering of more amazing acts to make on delicious musical feast.
Central Coast hero's Something With Numbers hit the stage to play their first show in two years and only show for 2011, with fellow Coast locals, One Dollar Short coming out of hibernation, after calling an indefiniate hiatus back in 2005.
These two things alone are turning Coaster 2011 into a welcome home party of epic proportions. After an unforgettable debut last year, Tomorrow Land returns with a collection of talent such as Ajax, sexy DJ'ing minx Nina Las Vegas, Tom Piper, Naysayer and Gilsun, Wolfpack, Purple Sneakers DJ's and more to ensure lots of calories are burnt on the dance floor.
We invite you to join us once again on the NSW Central Coast for Coaster 2011 featuring:
JOHN BUTLER TRIO
DRAPHT
LITTLE RED
JEBEDIAH
BAG RAIDERS
THE POTBELLEEZ
SOMETHING WITH NUMBERS
HORRORSHOW
TIM & JEAN
TONITE ONLY
ONE DOLLAR SHORT
GOLD FIELDS
AJAX
BALL PARK MUSIC
ANDY BULL
PURPLE SNEAKERS DJS
TOM PIPER
NINA LAS VEGAS
STRANGERS
TAYLOR & THE MAKERS
WOLFPACK
NAYSAYER & GILSUN
CHEAP LETTUS
and Thundercat DJ'S.
Date: September 17th 2011
Venue: Gosford Showground, Gosford NSW
Tickets: On Sale June 23rd


SEARCH FOR TICKETS NOW


| | | | | | | |
| --- | --- | --- | --- | --- | --- | --- |
| 17.Sept.11 | | Gosford Showground, GOSFORD | | NSW | | |
Need your live music fix?
Search for CHILDREN COLLIDE here.
Touring August 2011

Search for JEBEDIAH here.
Touring June - August 2011

Search for LITTLE RED here.
Touring June - July 2011