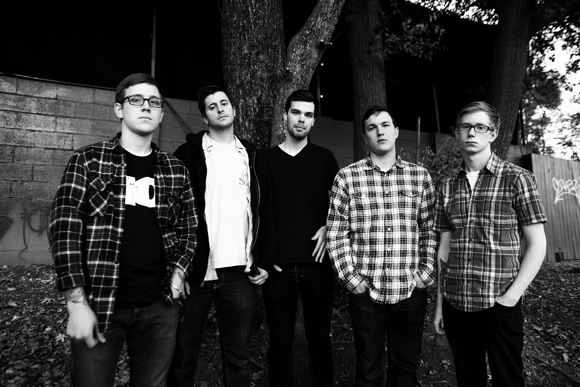 Destroy All Lines, Blunt Magazine, Killyourstereo.com & Macbeth present
BALANCE AND COMPOSURE
AUSTRALIAN TOUR AUGUST 2011
In their relatively short time together Balance And Composure have deservingly gone from strength to strength, building a solid reputation from their heavy touring schedule and DIY principles.
After self releasing their debut EP 'I Just Want To Be Pure' in 2008, Balance And Composure took the next step, signing to No Sleep Records for their 'Only Boundaries' EP and split with Tiger Jaw. Their latest effort, full length debut 'Separation' is available now through No Sleep Records with Shock taking care of its release locally. Beyond the studio, the first half of 2011 has also seen the guys clock up some serious miles playing in most corners of the States, with no sign of reprieve in sight.
Fresh from on the road with Make Do And Mend, Balance And Composure impressed with standout live shows at SXSW. As well as being selected for the Thrasher Skateboard Magazine party, Balance And Composure graced the stage as one of 'Alternative Press' 100 Bands You Need To Know'.
Post Austin, it was straight back onto the road for a month of back-to-back shows alongside California's dredg. Now comes the good news that the Pennsylvanian five piece have set their sights on bringing their own brand of 90s influenced underground alt rock to Australia this August.
In addition to a run of dates that includes Brisbane, Sydney, Canberra, Melbourne and Adelaide, Balance And Composure will also be playing a string of fully stripped back, acoustic sets at some of Australia's most loved independent record stores.
Joining them on the road will be Brisbane post hardcore quintet, Fires Of Waco, whom also released their debut CD / LP Old 'Ghosts Never Sleep' earlier this year on Poison City Records.
Local supports will be announced in the coming weeks.


SEARCH FOR TICKETS NOW


| | | | | | | |
| --- | --- | --- | --- | --- | --- | --- |
| 18.Aug.11 | | Free All Ages Set - Kill The Music, BRISBANE | | QLD | | Free! |
| | | | | | | |
| --- | --- | --- | --- | --- | --- | --- |
| 18.Aug.11 | | Boys & Girls @ X&Y, BRISBANE | | QLD | | |
| | | | | | | |
| --- | --- | --- | --- | --- | --- | --- |
| 20.Aug.11 | | Nowhere, SYDNEY (tickets only on the door) | | NSW | | |
| | | | | | | |
| --- | --- | --- | --- | --- | --- | --- |
| 21.Aug.11 | | Free All Ages Set - Resist Records, SYDNEY | | NSW | | Free! |
| | | | | | | |
| --- | --- | --- | --- | --- | --- | --- |
| 24.Aug.11 | | Bar 32, CANBERRA | | ACT | | |
| | | | | | | |
| --- | --- | --- | --- | --- | --- | --- |
| 25.Aug.11 | | Free All Ages Set - Poision City, MELBOURNE | | VIC | | Free! |
| | | | | | | |
| --- | --- | --- | --- | --- | --- | --- |
| 25.Aug.11 | | Next @ Colonial Hotel, MELBOURNE | | VIC | | |
| | | | | | | |
| --- | --- | --- | --- | --- | --- | --- |
| 27.Aug.11 | | Free All Ages Set - Carity Records, ADELAIDE | | SA | | Free! |
| | | | | | | |
| --- | --- | --- | --- | --- | --- | --- |
| 27.Aug.11 | | Black Market @ Higher Ground, ADELAIDE | | SA | | |