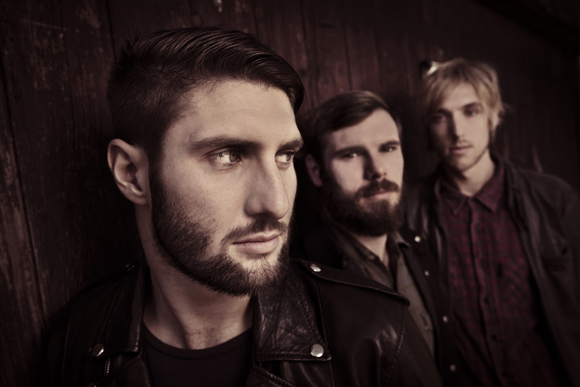 Calling All Cars
Rolling on – new national tour, new album to drop soon
CALLING ALL CARS currently find themselves in the middle of a blistering four-date tour to launch new single 'Reptile', but before they come off the road the hard-rocking three-piece are jumping out of their skins to announce their next run of dates.
The new shows will coincide and launch the release of the Melbourne band's eagerly anticipated and as yet untitled second album, due out on Friday 5 August.
Joining Calling All Cars on the road will be two of the country's most promising up-and-comers. Zeitgeist punk rockers BOY IN A BOX, currently riding high on the back of their triple j powered hot single 'Glitter, Gold, Ruin' and recent Island Records signatories RED COATS will be warming up the crowds on this lengthy national tour, promising it to be one of the loudest and sweatiest for the year.
Working once again alongside producer Tom Larkin from Shihad, Calling All Cars have created a monster of a second album.
Some taut and twisted sounds are emanating from the studio as the band put the final touches on the follow-up to their highly acclaimed debut Hold, Hold, Fire.
Stay tuned for more news on this front as it eventuates.
For now, you can pencil the following live dates into your diary!


SEARCH FOR TICKETS NOW


| | | | | | | |
| --- | --- | --- | --- | --- | --- | --- |
| 17.Jun.11 | | The Andergrove Tavern, MACKAY | | QLD | | |
| | | | | | | |
| --- | --- | --- | --- | --- | --- | --- |
| 11.Aug.11 | | Kay Street Entertainment, TRARALGON | | VIC | | |
| | | | | | | |
| --- | --- | --- | --- | --- | --- | --- |
| 12.Aug.11 | | The Republic Bar, HOBART | | TAS | | |
| | | | | | | |
| --- | --- | --- | --- | --- | --- | --- |
| 13.Aug.11 | | Fowlers Live, ADELAIDE | | SA | | |
| | | | | | | |
| --- | --- | --- | --- | --- | --- | --- |
| 19.Aug.11 | | Tempo Hotel, BRISBANE | | QLD | | |
| | | | | | | |
| --- | --- | --- | --- | --- | --- | --- |
| 20.Aug.11 | | Coolangatta Hotel, COOLANGATTA | | QLD | | |
| | | | | | | |
| --- | --- | --- | --- | --- | --- | --- |
| 24.Aug.11 | | The Loft, WARRNAMBOOL | | VIC | | |
| | | | | | | |
| --- | --- | --- | --- | --- | --- | --- |
| 25.Aug.11 | | Karova Lounge, BALLARAT | | VIC | | |
| | | | | | | |
| --- | --- | --- | --- | --- | --- | --- |
| 26.Aug.11 | | Corner Hotel, RICHMOND | | VIC | | |
| | | | | | | |
| --- | --- | --- | --- | --- | --- | --- |
| 27.Aug.11 | | Ferntree Gully Hotel, FERNTREE GULLY | | VIC | | |
| | | | | | | |
| --- | --- | --- | --- | --- | --- | --- |
| 01.Sept.11 | | Transit Bar, CANBERRA | | ACT | | |
| | | | | | | |
| --- | --- | --- | --- | --- | --- | --- |
| 02.Sept.11 | | Oxford Art Factory, DARLINGHURST | | NSW | | |
| | | | | | | |
| --- | --- | --- | --- | --- | --- | --- |
| 03.Sept.11 | | Waves, WOLLONGONG | | NSW | | |