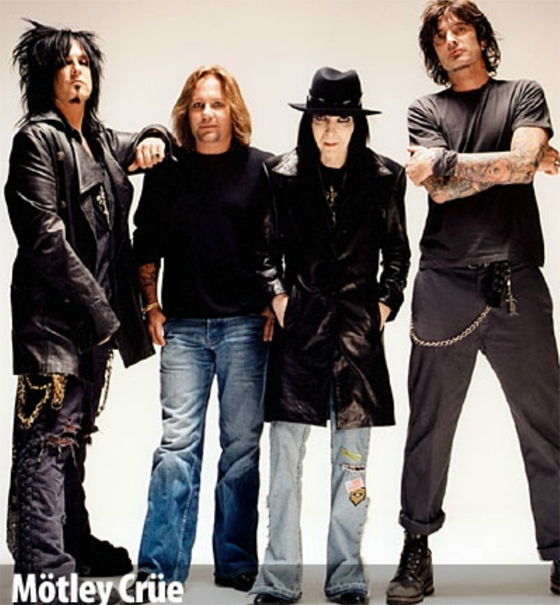 MÖTLEY CRÜE RETURN TO AUSTRALIA IN SEPTEMBER WITH SPECIAL GUEST BRET MICHAELS FROM POISON AND DOC NEESON VOICE OF THE ANGELS
McManus Entertainment is excited to announce the return of hard rockers Mötley Crüe to Australia in September.
Just when you thought it was safe to come out of the house, the world's most notorious hard rock band is back! Featuring the original line-up of Vince Neil on vocals, Mick Mars on guitar, Nikki Sixx on bass and Tommy Lee on drums, Mötley Crüe are thrilled to be coming back to Australia in September.
Joining Mötley Crüe on their Australian tour is Poison frontman and star of the 'Rock of Love' TV series and recent 'Celebrity Apprentice' winner, Bret Michaels.
Australian rock legend Doc Neeson, voice of The Angels, will also join this stellar rock and roll line up.
"This is going to be a rockin' gig! The amount of e-mails I have received from fans begging to put on a show like this has been overwhelming. The fans spoke, we listened and it's going to rock! To have all these guys on the one bill is huge! Australia, get ready to rock," said promoter Andrew McManus.
Mötley Crüe have sold more than 80 million records worldwide and are most famous for their hits Kickstart My Heart, Smokin' In The Boys Room, Shout At The Devil, Dr Feelgood, and Girls, Girls, Girls.
They last toured Australia in 2005 and can't wait to thrill their Aussie fans again. These superstars of the Sunset Strip - and one of pop-glam-metal's most successful acts of the '80s - launched a specific brand of rock that would grow to rule the decade and make rock and roll what it is today.
There were many popular hard rock bands from Los Angeles but none that had the theatricality, sleaze and swagger of Mötley Crüe. No band has consumed as many drugs and downed as much booze without dying as Mötley Crüe all of which was documented in 2001's New York Times best-seller, The Dirt (written by Neil Strauss) and Nikki Sixx's critically acclaimed The Heroin Diaries: A Year in the Life of a Shattered Rock Star.
You've been warned Australia … Mötley Crüe are back! And this time they're bringing Bret Michaels with them!
Bret Michaels first rose to fame as lead singer of glam-metal band Poison, one of rock's most iconic and enduring bands. Poison, along with Mötley Crüe, defined the fast, gritty and glamorous rock scene of the '80s. But add reality star, spokesperson, businessman and philanthropist to the list – Bret does more jobs in a single day than most people do in a lifetime!
As a lifelong diabetic, he is the face of the American Diabetes Association donating $250,000 to the cause when he won Donald Trump's 'Celebrity Apprentice' in 2010. His reality show 'Rock of Love' is one of the most successful in VH1 history. Poison have sold more than 30 million records worldwide. Two of Poison's biggest hits, Nothin' But a Good Time and the anthemic, Every Rose Has Its Thorn feature on their highest selling album from 1988, Open Up and Say… Ahh!
Doc Neeson will also be appearing with Mötley Crüe and Bret Michaels. As the voice of The Angels, Doc Neeson's had major success with singles including Am I Ever Going To See Your Face Again, Take A Long Line and Shadow Boxer.
Proudly presented by MAX, Triple M and Australian Guitar Magazine.


Need your live music fix?
Search for TONIGHT ALIVE here.
Touring July 2011

Search for TITLE FIGHT here.
Touring September 2011

Search for MONA here.
Touring July 2011