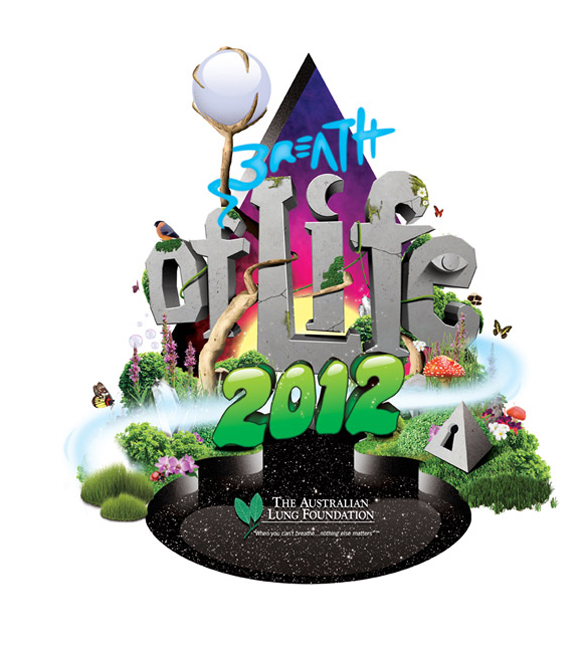 Punters Get Ready…
Creators and Organisers of Tassie's Biggest One Day Music Festival Set To Breathe New Life into,
"The Breath of Life"
Creators, funders and organisers behind one of Tasmania's biggest annual music events, held in Launceston since 2006, have today announced their involvement in an exciting new International-standard music festival expected to set a new benchmark for Tassie music festivals. After six years as the "brains and brawn" behind Tassie's favourite youth music festival, Stacy File and Clint Pease of OPCON Pty Ltd, have welcomed the exciting opportunity to follow personal passions, forming a partnership with The Australian Lung Foundation and The Breath of Life Music Festival (BOL).
This collaboration will not only assist a very worthy cause and unique event, but also support and provide opportunities for the local Tasmanian music and events industry and those working within it. "We have been given an exciting opportunity to bring "The Breath of Life Festival" to Launceston and grow it into a world-class festival experience for local and interstate music fans," said Clint and Stacy. "We are delighted to be working with OPCON to bring "The Breath of Life" to Launceston.
"It is important that people value and look after their lungs from an early age. The Breath of Life festival provides an excellent platform for us to communicate this message to the youth in Tasmania." said William Darbishire, CEO of The Australian Lung Foundation.
"Over the past 6 years, we have had the privilege of creating, funding and developing our festival model from scratch and have reveled in the challenge and commitment required to ensure the success of this milestone event," said Mr. Pease. We've raised near half a million dollars for a great cause and attracted 60,000+ attendees."
"It's required many personal and business risks, continual innovation and strong local support to deliver."
"We've now been given the opportunity to join an amazing team of talented, enthusiastic and pro-active people (Australian Lung Foundation, Diesel and the Lizotte Family, River City Records, who share a passion for a cause very close to us all.
This is a group of people that are committed to making things happen and we have the opportunity to take our model to the next level with The Breath of Life Festival in what is sure to be nothing short of a legendary 2012 festival experience."
Creators of the original, The Breath of Life festival, Johnny Diesel and the Lizotte Family, as well as BOL patron and legendary rocker, Jimmy Barnes, immediately welcomed the new direction of the event and praised OPCON for their shared vision.
"I 'm so happy for dad, his dream has come true. Breath Of Life is such an amazing event that needed this kind of support to enable it to deliver the kind of outcomes we all hoped it would. I look forward to seeing everyone there and sharing in what will be a fantastic event, "said Mark Lizotte, (Diesel).
"I can't believe it. This is more than we could have ever asked for…we dreamt of the event achieving this kind of status & support," said Hank Lizotte. "I always believed it was worthy of this kind of recognition and now it is has become a reality, I get to see & experience my dream come true. So many people have given their time & best efforts to help myself & my family realise our dream, to recognise the efforts of The Australian Lung Foundation and to provide much needed awareness and financial support for their cause. "
"The opportunities and education it will provide for our local musicians & kids working or wanting to work in the Tasmanian music scene will be amazing. This festival will now achieve this ……… Just fantastic " "There is such a buzz both locally and nationally within the music industry and the youth community about the short and long term possibilities," Said Mr. Pease. "The feedback and enthusiasm has been incredible."
"One thing is certain. Punters can expect all of the existing elements that have made previous OPCON events a huge success, with a plethora of additional exciting elements that will form a new benchmark in festival experience. We are also 100% committed to Launceston and Tasmania. "Tassie is our home and will always be the home for Breath of Life Festival. But the idea of taking this Tasmanian owned event and developing it on a National level is an amazing opportunity that ties in very closely with the vision we've always had to deliver something that is truly Tasmanian nation-wide." "Breath of Life has always been a terrific event and we are very pleased that it will continue in this exciting, new format" Said Mr Darbishire.
BREATH OF LIFE FESTIVAL
Breath of Life Festival was created by the well known musician, Diesel, and the Lizotte family in 2007 in support of the Australian Lung Foundation and its quest to promote lung health, facilitate and encourage research into lung disease and to provide advocacy, education and support services to patients, carers, their families and the community who are impacted by lung disease. Breath of Life began in 2008 and attracted 5,500 attendees over its first two events. Not only has it previously given the crowds a great day out, it has also advocated for home-grown, grass roots music and artists whilst supporting and empowering local youth in all aspects of the music and events industry.
THE AUSTRALIAN LUNG FOUNDATION
Launched in 1990, The Australian Lung Foundation was established by a group of Physicians concerned about the chronic shortage of funds for potentially life-saving research work and support for patients who suffer from lung disease. The Australian Lung Foundation's mission is to promote lung health and support for the more than six million Australians living with lung disease.
Your support will help us to achieve the goals of The Australian Lung Foundation:
* Promote lung health
* Educate the community on the prevention and/or treatment of lung disease.
* Foster patient, carer and family support activities; and
* Encourage and facilitate research
* Influence public and corporate policy in relation to lung disease.
WHAT: BREATH OF LIFE MUSIC FESTIVAL
WHERE: LAUNCESTON AREA
WHEN: 10th and 11th MARCH 2012 (MARCH LONG WEEKEND)
MORE SNEAK PREVIEWS TO COME SOON…..
FOR MORE INFO AND TO SIGN UP VISIT: www.breathoflifefestival.com
or visit the new Breath of Life Music Festival Facebook page coming soon…


SEARCH FOR TICKETS NOW


Need your live music fix?
Search for COME TOGETHER here.
Big Top Luna Park, Sydney NSW 11th June 2011

Search for DIESEL here.
Touring July - October 2011

Search for PETE MURRAY here.
Touring June 2011