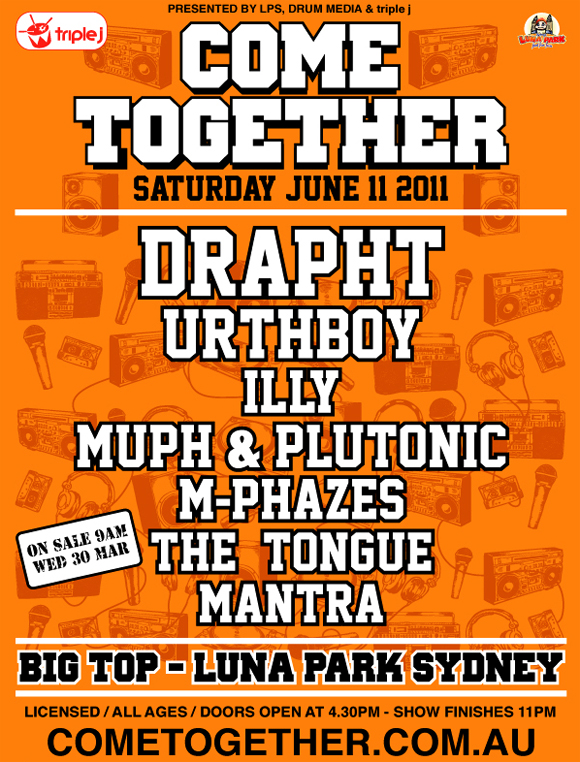 LPS, Drum Media and triple j presents
COME TOGETHER
After seven years of providing a distinctly domestic soundtrack to June long weekend, Come Together keeps its focus on showcasing the best of homegrown talent with an exciting new twist for its eighth incarnation.
Come Together returns in 2011, for one day only on Saturday June 11th. We've revamped, refreshed, recharged, renovated and are ready to roll out the musical movers and shakers with an all Australian hip hop line-up set to have the Big Top jumping.
Lining up front and center & fresh from nailing down the highest ranked hip hop single at number 12 on the Triple J Hottest 100, is hip-hop artist on the rise Drapht.
Hailing from Perth, Drapht emerged onto the scene alongside fellow WA heavy hitters Downsyde and Fdel and has since established himself as an MC on the up having polished his on-stage antics alongside the likes of the Hilltop Hoods, Dilated Peoples and Koolism amongst others. Rocking the stage with his sensational live band, Come Together will be the exclusive Sydney show on his 'Life of Riley' album tour.
With the help of his friends 'Jimmy Recard' and 'Rapunzel', Drapht's incredible live show is sure to bring the bounce to Come Together, leaving punters with a bigger grin than the face they walked in to the Park through.
Joining Drapht at Come Together is Urthboy, alongside his two cohorts Jane & Elgusto. Acclaimed albums, awards, nominations and a recent European tour are testament to Urthboy's status as one of the scene's true champions, with his set sure to demonstrate exactly why.
Fellow card-carrying member of the hit making fraternity Illy will also be hustling up the highway from Melbourne to take part in this hip hop throw down. With his single 'It Can Wait' continuing to rock radios around the country, Illy's spitfire delivery is sure to have the masses heaving from the get go.
Come Together 2011 also sees the familiar faces of Muph & Plutonic return to drop their brand of head nodding hi-jinks. With renowned producer Plutonic Lab swapping the switches for the skins and supplying the beats for Muph to play verbal wordsmith, this party starting one, two punch will deliver a set to remember.
With his calling card of soulful, boom bap beats M-Phazes arrives at Come Together with an ARIA in his record bag courtesy of his work with Bliss'N'Eso. With his recently released long player 'Good Gracious!' doing the rounds, you will be throwing your hands up as M-Phazes flexes his formidable production chops.
Young gun, The Tongue will also be on hand to step in and step it up, ready to take the Big Top over with mic in hand and cypher at the ready. Sharpening his razor sharp flow in the battle arena, The Tongue broke through with his high rotation bangers 'The Punch' and 'Bad Education' and continues to lead the charge for a new generation of home grown hip hop heroes.
Forging a reputation as a peerless freestlyer, the lyrically gifted Mantra has harnessed his word play and elevated himself into the upper stratosphere of Australian MC's. With the recent release of his debut long player; 'The Power of the Spoken', Mantra is a young man on the move and is poised for a break out performance at Come Together that shouldn't be missed.
With a roll call of Aussie hip hop hierarchy; Come Together 2011 has also chopped the ticket price with this year's tickets at only $59 (inc gst and booking fee) which includes access to the Park's rides for Come Together fans.
SEARCH FOR TICKETS NOW


| | | | | | | |
| --- | --- | --- | --- | --- | --- | --- |
| 11.Jun.11 | | Big Top Luna Park, SYDNEY | | NSW | | |
Need your live music fix?
Search for KELE here.
Touring August 2011
Search for ASH GRUNWALD here.
Touring July - September 2011