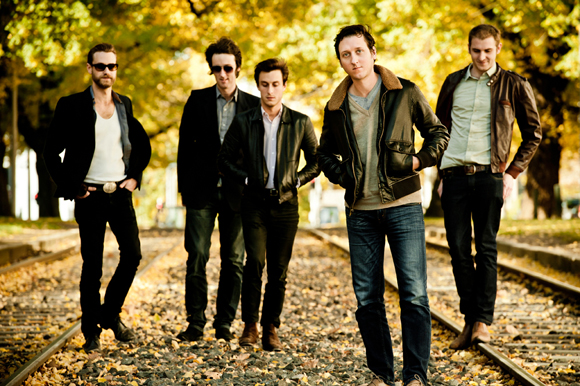 The Panics Majesty Tour
Presented by Mess and Noise
The Panics return to the fore in July with a national tour previewing new work from their forthcoming album, "Rain on the Humming Wire".
Jae Laffer's iconic story-telling shines through on the new single, 'Majesty' from the J Award-winning band, The Panics.
'Majesty' holds the promise of becoming an Australian indie anthem for 2011. Grand and sweeping with Jae Laffer's trademark lyrical prowess delivers a topical track worthy of a place in Australian music history.
Following on from the ARIA award–winning album 'Cruel Guards' comes the brilliant new album from The Panics 'Rain On The Humming Wire'. At once their most dynamic and electric album, it's also their most tender and poetic.
Recorded in upstate New York at the acclaimed Dreamland Studios located just outside Woodstock and Electric Lady in New York, the band set to work with emerging producer John O'Mahony (Metric, Alberta Cross).
The Panics finally received the recognition they deserved with the release of their third full-length album "Cruel Guards". The ARIA and J Award album surfed a wave of critical acclaim with hit track 'Don't Fight It' landing punches across the airwaves.
The single leapt to the forefront of the Australian consciousness scoring a coveted spot in the Top Ten of triple j's Hottest 100. After the success of the GOLD album on home soil, The Panics turned their attention to the motherland.
The band relocated to Manchester, England where they released "Cruel Guards" to further acclaim and much international interest.
The Panics' tour kicks off in Adelaide in early July and the new album "Rain on The Humming Wire" due out on July 29th, 2011 through Dew Process/UMA. To listen to the new single 'Majesty' head to www.facebook.com/thepanics


SEARCH FOR TICKETS NOW


| | | | | | | |
| --- | --- | --- | --- | --- | --- | --- |
| 08.Jul.11 | | Oxford Art Factory, DARLINGHURST | | NSW | | |
| | | | | | | |
| --- | --- | --- | --- | --- | --- | --- |
| 02.Jul.11 | | The Uni Bar, ADELAIDE | | SA | | |
| | | | | | | |
| --- | --- | --- | --- | --- | --- | --- |
| 15.Jul.11 | | The Corner Hotel, RICHMOND | | VIC | | |
| | | | | | | |
| --- | --- | --- | --- | --- | --- | --- |
| 16.Jul.11 | | The Zoo, BRISBANE | | QLD | | |