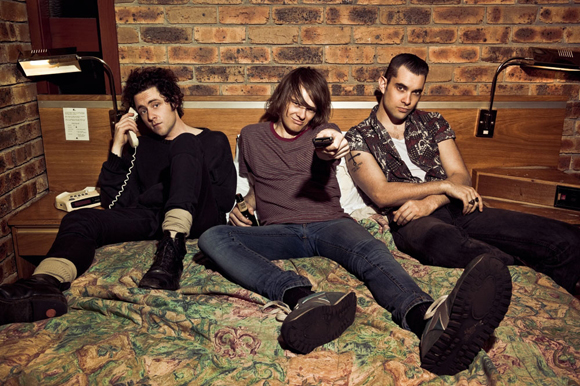 CHILDREN COLLIDE
It is well known that Children Collide apply themselves in a most dedicated fashion to bringing listeners the most intriguing content to accompany their music possible.
Now, with majestic single Loveless the plot thickens as an astounding video and extensive tour dates are revealed. Loveless is a song of strength and sorrow. A diamond in the rough. Buried deep within the frenzied beats and intelligible chaos that permeates the rest of the Theory of Everything album, Loveless is the most personal song to ride the airwaves courtesy of Children Collide.
The accompanying video is also an incredible creative collaboration.
Directed by lauded Animal Kingdom director David Michôd, Loveless is dually his first foray into music video and first release since the breakthrough success of his debut feature film. Frontman Johnny Mackay's stark performance in the single shot video is near flawless. The unsettling appearance of Michôd himself in the video is chilling.
Animal Kingdom garnered such impressive accolades throughout 2010 as:
Academy Award & Golden Globe nominations for Best Supporting Actress (Jacki Weaver)
World Cinema Jury Prize - Sundance Film Festival
10 Australian Film Institute Awards
Australian Director's Guild - Best Direction in a Feature Film
New York Film Critics Circle - Best First Film
Michôd is a member of the Blue Tongue Films, whose other current projects include such illustrious collaborations as:
• Nash Edgerton's short film BEAR (co-written by Michôd) screening in competition at Cannes 2011 /p>
• Kieren Darcy-Smith's debut feature SAY NOTHING starring Joel Edgerton (in post -production)
• Spencer Susser's debut feature HESHER starring Joseph Gordon-Levitt & Natalie Portman (co-written by Michôd)
Loveless was produced by Michael Cody and shot by Germain McMicking; two key members of Flood Projects. Flood Projects is the erstwhile team behind Amiel Courtin-Wilson's recently completed feature film Hail.
For all this barrage of information, the best way to experience this incredibly moving clip is to view it with your own eyes. We swear you'll not regret it, nor likely forget it.
Delve into it here Next, on the astutely titled Loveless Tour Children Collide will be performing their stirring opus in a live setting for the very first time.
Taking in twelve dates and thousands of kilometers through August, the Loveless Tour is the final sojourn for Children Collide as they round out the journey that has been Theory of Everything.
Tickets are on sale Thursday May 26th, all dates included for your thrills below.
Special plans are afoot for these dates, the Loveless tour will be remembered long hence.


SEARCH FOR TICKETS NOW


| | | | | | | |
| --- | --- | --- | --- | --- | --- | --- |
| 03.Aug.11 | | The Pelly Bar, FRANKSTON | | VIC | | |
| | | | | | | |
| --- | --- | --- | --- | --- | --- | --- |
| 04.Aug.11 | | Karova Lounge, BALLARAT | | VIC | | |
| | | | | | | |
| --- | --- | --- | --- | --- | --- | --- |
| 05.Aug.11 | | The Bended Elbow, GEELONG | | VIC | | |
| | | | | | | |
| --- | --- | --- | --- | --- | --- | --- |
| 12.Aug.11 | | Manning Bar, SYDNEY | | NSW | | |
| | | | | | | |
| --- | --- | --- | --- | --- | --- | --- |
| 13.Aug.11 | | The Corner Hotel, RICHMOND | | NSW | | |
| | | | | | | |
| --- | --- | --- | --- | --- | --- | --- |
| 25.Aug.11 | | Studio 146, ALBANY | | WA | | |
| | | | | | | |
| --- | --- | --- | --- | --- | --- | --- |
| 26.Aug.11 | | Prince Of Wales Hotel, BUNBURY | | WA | | |
| | | | | | | |
| --- | --- | --- | --- | --- | --- | --- |
| 27.Aug.11 | | Capitol, PERTH | | WA | | |