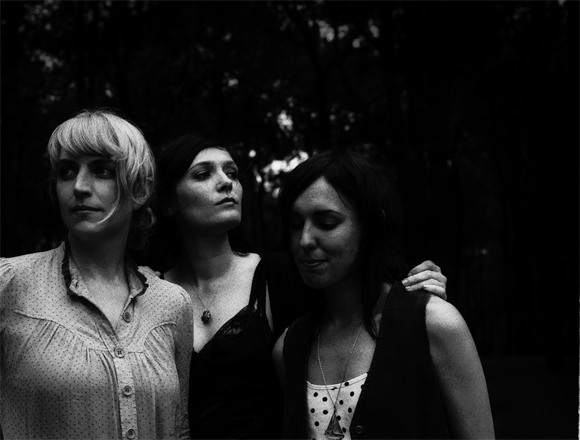 SEEKER LOVER KEEPER
Individually, they're three of Australia's most innovative songwriters.
Sally Seltmann specialises in narcotic, dreamy, sweeping pop, aided by layers of cotton-soft vocals, pianos and synths.
Holly Throsby is known for summoning melodies that sound beautifully crumpled, worn and decades old, and matching them with hushed, cutting lyrics that read like a Carver short story.
Sarah Blasko writes haunting songs that veer from intimate ballads to orchestral showstoppers, and sings with what is now one of the most recognisable voices in Australian music.
All three are distinct talents, but there are common threads between their songwriting too: an underlying sense of nostalgia; the golden, sing-along pop tunes; and the complicated lyrics about seeking love, and how difficult it is to hold onto once you've got it.
It makes sense that the three of them would be good friends already. But get them together in the studio or on stage, and you've got an entirely new band: Seeker Lover Keeper.
Seeker Lover Keeper was recorded over two hot weeks in New York with Jim White (The Dirty Three) on drums and Shahzad Ismaily (Tom Waits, Martha Wainwright, Bonnie Prince Billy) on bass and guitar. Victor Van Vugt (Nick Cave and the Bad Seeds) was recruited as producer alongside Holly, Sarah and Sally who all shared piano and other guitar duties.
Holly, Sarah and Sally take turns on lead vocals throughout Seeker Lover Keeper, with all members feeling a deep sense of responsibility to each other's songs. On 'Even Though I'm A Woman'—a towering pop track Sally wrote about long distance love—Holly takes lead vocals.
"You want to do the song justice," Holly says. "I wanted to make sure Sally was happy with how we were singing it, making sure it would sound as good as if she were singing it herself." They also learned from each other. Sarah says that both Holly and her often watched Sally play, just thinking, Wow. "Sarah and I play by ear," Holly explains, "and it's different when you write and play that way. Working with Sally has pretty much made me want to learn music theory."
Sarah agrees, adding, "When you're so used to singing your own stuff, you get in your own patterns. Working with them shook me up a bit, in as far as being able to get inside someone else's world a bit."
The finished result is Seeker Lover Keeper, a self-titled album that's reminiscent of all three of the artists' back catalogues, but also unlike anything any of them have recorded.
After the record is released, the girls will play some live shows but beyond that, neither Sarah, Holly nor Sally knows whether Seeker Lover Keeper is a one-off project or not.
"We've never discussed that, have we?" Holly says to the others. Everyone realises they haven't. "Maybe, maybe not," Holly says. "Who knows? We've been so focused on this one; it hasn't even come up as a thought. "


SEARCH FOR TICKETS NOW

| | | | | | | |
| --- | --- | --- | --- | --- | --- | --- |
| 06.Jul.11 | | The Heritage Hotel, BULLI | | NSW | | |
| | | | | | | |
| --- | --- | --- | --- | --- | --- | --- |
| 07.Jul.11 | | The Heritage Hotel, BULLI | | NSW | | |
| | | | | | | |
| --- | --- | --- | --- | --- | --- | --- |
| 15.Jul.11 | | Mullumbimby Town Hall, MULLUMBIMBY | | NSW | | |
| | | | | | | |
| --- | --- | --- | --- | --- | --- | --- |
| 16.Jul.11 | | Bellingen Memorial Hall, BELLINGEN | | NSW | | |
| | | | | | | |
| --- | --- | --- | --- | --- | --- | --- |
| 24.Jul.11 | | Thornbury Theatre, THORNBURY | | VIC | | |