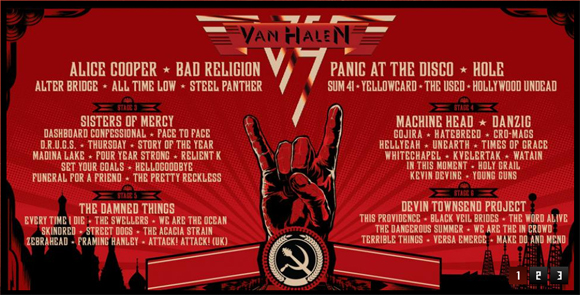 SOUNDWAVE REVOLUTION LINEUP ANNOUNCED
The wait is finally over! After drip-feeding the lineup progressively over the past few months, the full line up has been annnounced, and it's bound to get everyone excited! Without further ado:
Van Halen (with David Lee Roth)
Hole
Alice Cooper
Bad Religion
Machine Head
Danzig
Sisters Of Mercy
Alter Bridge
VersaEmerge
Kevin Devine
The Pretty Reckless
All Time Low
Dashboard Confessional
Gojira
Hatebreed
Hollywood Undead
Street Dogs
Panic! at the Disco
Relient K
Attack! Attack!
Face to Face
Framing Hanley
Watain
The Used
Cro-Mags
Kvelertak
Yellowcard
Holy Grail
Unearth
Times of Grace
Destroy Rebuild Until God Shows
Funeral For a Friend
Thursday
Steel Panther
Devin Townsend
Sum 41
Black Veil Brides
Zebrahead
Set Your Goals
Hellogoodbye
The Dangerous Summer
We Are The In Crowd
The Word Alive
In This Moment
The Damned Things
Hellyeah
Skindred
Whitechapel
The Acacia Strain
Every Time I Die
Madina Lake
Make Do And Mend
Story Of The Year
We Are The Ocean
Four Year Strong
Terrible Things
The Swellers
This Providence
Young Guns


SOUNDWAVE REVOLUTION:
Brisbane Revolution – Saturday 24th September
Sydney Revolution – Sunday 25th September
Melbourne Revolution – Friday 30th September
Adelaide Revolution – Saturday 1st October
Perth Revolution – Monday 3rd October

TICKET INFO:

Tickets go on sale Thursday 2nd June at 9am and a pre-sale will be available for Soundwave members.

Festival Members pre-sale:

Tuesday 24 May 9am, Brisbane AEST
Wednesday 25 May 9am, Sydney AEST
Thursday 26 May 9am, Melbourne AEST
Friday 27 May 9am, Adelaide (CST) and Perth (WST)
through http://tickets.soundwavefestival.com


Need your live music fix?

Search for PARKWAY DRIVE here.
Touring NSW May 2011

Search for SEGRESSION here.
Touring May 2011

Search for KARNIVOOL here.
Touring June 2011