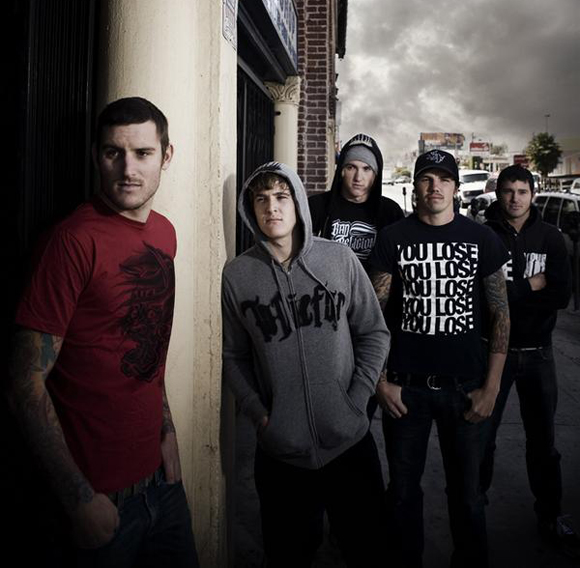 PARKWAY DRIVE
Parkway Drive have announced a new string of Australian tour dates in the form of the 'Mix 'N Mash' tour. Joining them on these dates in May will be Miss May I, The Wonder Years and Confession. The tour visits Brisbane, Byron Bay, Sydney, Newcastle, Wollongong, Melbourne, Perth and Adelaide.
"I think the name of the tour says it all" says Parkway Drive vocalist Winston McCall. "When we first started going to shows we we're stoked to be able to see a bunch of bands that we liked, but also that may not sound exactly the same. These days it seems every tour has become so stream lined to one particular sound you may as well be watching the same band play four or five times in a row".
"This tour has a bit of everything for anyone who like's their music a little faster, a little more energetic, something local, something punk, something heavy, something rock, and then us hahaha. It's everything we love, and we couldn't be more siked"
In a double blow to the tour, both You Me At Six and Bleeding Through have withdrawn from the tour. Due to the bands extended recording schedule, You Me At Six will spend the next few weeks in the studio completing their new album. Replacing them will be Ohio's Miss May I.
Formed in 2006, Miss May I started as a group of 16-year olds and is poised to be the new face of heavy music. Blending death metal, thrash and melodic hardcore, the band released there sophomore album "Monuments" in 2010 and will spend the US summer on the 2011 Vans Warped Tour. The Wonder Years and Confession remain as is. The bill will be rounded out with locals opening every show.


SEARCH FOR TICKETS NOW


| | | | | | | |
| --- | --- | --- | --- | --- | --- | --- |
| 19.May.11 | | Byron Bay High School, BYRON BAY | | NSW | | |
| | | | | | | |
| --- | --- | --- | --- | --- | --- | --- |
| 20.May.11 | | Hordern Pavillion, MOORE PARK | | NSW | | |
| | | | | | | |
| --- | --- | --- | --- | --- | --- | --- |
| 22.May.11 | | WIN Entertainment Cenre, WOLLONGONG | | NSW | | |
For other Parkway Drive shows go to www.resistrecords.com