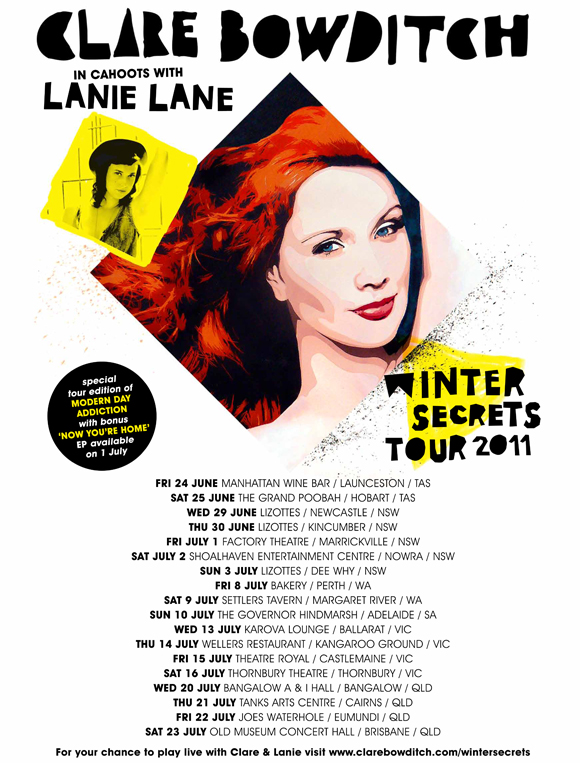 CLARE BOWDITCH announces her
WINTER SECRETS TOUR
A FUNtastic night of interactive audience adventure in cahoots with LANIE LANE and You!
Last year was significant for our most inimitable female singer songwriter, Clare Bowditch, who was crowned Rolling Stone Magazine's 'Woman of the Year' for her contribution to culture. She was also handpicked by the legendary Leonard Cohen to open shows on his Australian tour.
This year, the lovable and inventive Miss Clare Bowditch decided to try her hand at something a touch different and collaborate with a few fellow artists (Gotye, Golden Arrows) on writing some new songs and re-worked versions of material from previous albums.
Through the process Clare met Lanie Lane, a Sydney songstress gaining popularity for her rockabilly swing-folk sounds, and thus began a musical love affair between the two ladies. Not only have they written and recorded a stunning new duet 'Now You're Home', but Clare is also thrilled to be taking Lanie on the road for her Winter Secrets tour which will be weaving its way throughout all major capital cities and key regional areas this June/July. The single will be released on Monday 23 May, to be followed by a brand new EP and tickets for the tour are on sale now.
Clare Bowditch's Winter Secrets will deliver nights of delirious, interactive inspiration, all stemming from Clare's belief that everyone is creative. The evenings will depend on input from her fans and crowd. The artist and the audience will become one and the same thing!
As Clare said today;
"In 10 years of touring, the only noticeable constant is that my audiences are always full to overflowing with what I believe are Fascinating Creative Types. This show is about giving them a place to feel at home, and about celebrating the remarkable everyday creative abilities we all have lurking somewhere. I enlist them to join me on what will be a memorable evening – expect the unexpected but most of all be prepared for some serious fun!"
The Winter Secrets tour is designed to offer a collaborative approach to live music, encouraging the audience to join in a creative adventure with Clare and Lanie to break down the barrier between artist and audience. The shows will reveal a shared collage of intimate performances, inspiring stories, songs, comedy, questions and answers, secrets, random audience participation and even group singing sessions with the two talented ladies.
If you would like to play live on stage with Clare and Lanie during their new song 'Now You're Home', here's your chance; if you have a special musical gift, play or have invented an unusual instrument, apply to the Winter Secrets Competition at www.clarebowditch.com/wintersecrets
For all non-instrumentalists, start warming up those vocal chords now!
SEARCH FOR TICKETS NOW


| | | | | | | |
| --- | --- | --- | --- | --- | --- | --- |
| 24.Jun.11 | | Manhattan Wine Bar, LAUNCESTON | | TAS | | |
| | | | | | | |
| --- | --- | --- | --- | --- | --- | --- |
| 25.Jun.11 | | The Grand Poobah, HOBART | | TAS | | |
| | | | | | | |
| --- | --- | --- | --- | --- | --- | --- |
| 09.Jul.11 | | Settlers Tavern, MARGARET RIVER | | WA | | |
| | | | | | | |
| --- | --- | --- | --- | --- | --- | --- |
| 13.Jul.11 | | Karova Lounge, BALLARAT | | VIC | | |
| | | | | | | |
| --- | --- | --- | --- | --- | --- | --- |
| 16.Jul.11 | | The Thornbury Theatre, THORNBURY | | VIC | | |
| | | | | | | |
| --- | --- | --- | --- | --- | --- | --- |
| 20.Jul.11 | | A & I Hall, BANGALOW | | NSW | | |
| | | | | | | |
| --- | --- | --- | --- | --- | --- | --- |
| 23.Jul.11 | | The Old Museum, BRISBANE | | QLD | | |