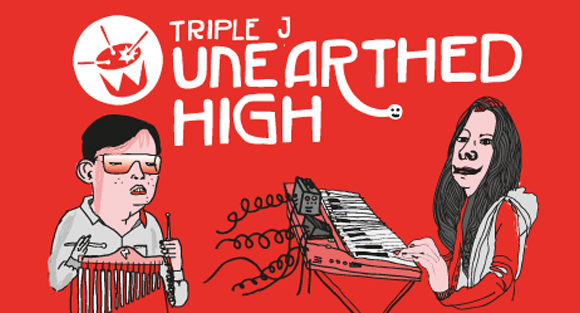 UNEARTHED HIGH
Every day triple j is hard at work supporting Australia's amazing local music talent, passionate about unearthing the best young acts and bringing them to a wider audience. Today Unearthed High begins our biggest search yet for the finest new music talent: Australia's best high school act.
If you're a songwriter, in a band, a producer or MC - triple j wants to hear from you. Once a stand-out act is found, they will be flown to Sydney to have their song professionally recorded and played on triple j. To top it off triple j will put on an awesome lunchtime gig at the winners' school where the winning band will get to play alongside The Living End.
There is no better way to launch a young artists career. Last year's Unearthed High winners Stonefield are booked to play at Glastonbury next month after being spotted at a triple j Unearthed showcase shortly after winning Unearthed High. 2009 winners Hunting Grounds have been touring heavily and winning fans around the country. Unearthed High finalists Tim & Jean spent the summer playing the festival circuit, have just released their debut album Like What and are currently on a headline tour.
Now in its fourth year Unearthed High brings with it an enormous online community and a bank of resources specifically targeted at high school students with musical dreams. The Unearthed High site has heaps of tips and ideas to help launch your career, including songwriting, rehearsing, recording, playing gigs, promoting yourself and inside stories from The Doctor.
Entries close Monday 25 July so there's plenty of time to get started. If you've ever imagined yourself on stage, have chops on the guitar or you're an electronic geek - now's the time to start writing and rehearsing. We can't wait to hear what you've got.
You can listen and download all the entries on triplejunearthed.com for FREE, so if you love music but aren't in a band you can still get involved – discovering, reviewing and sharing your new fave band.
Go to the Unearthed High website for info - and get your band in the spotlight!