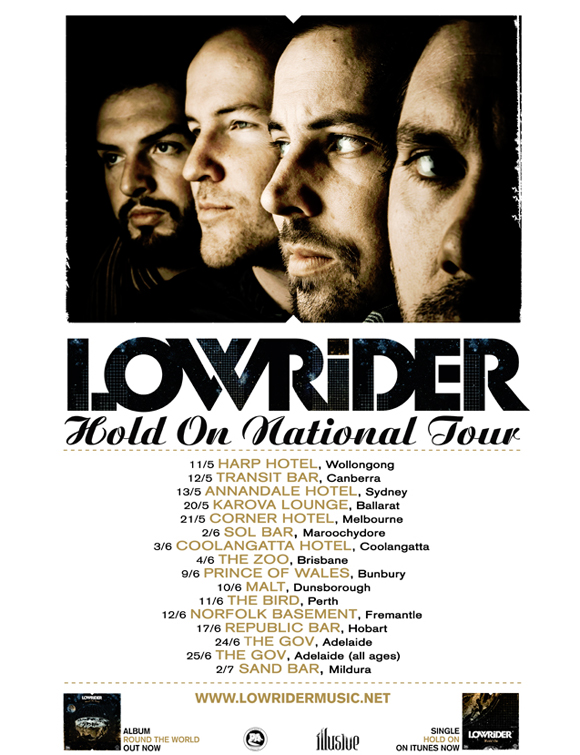 Illusive Presents
LOWRIDER
It's full steam ahead for Lowrider – the Adelaide quartet that are tipped to become one of the breakthrough acts of 2011.
After absolutely tearing the roof off the Hot Produce stage on the national Big Day Out tour, they've just performed this year's Bluesfest and are the national support for the John Legend's upcoming (and near sold out) Australian tour.
They were also recently confirmed as the support act for the iconic Lionel Richie on his upcoming Day on the Green shows.
Lowrider then hit the road for an extensive headlining tour throughout May and June.
As tens of thousands have now discovered, they are one of the country's most exhilarating live acts, and they are currently in the best form of their career.
Don't miss out.

SEARCH FOR TICKETS NOW


| | | | | | | |
| --- | --- | --- | --- | --- | --- | --- |
| 11.May.11 | | The Harp Hotel, WOLLONGONG | | NSW | | |
| | | | | | | |
| --- | --- | --- | --- | --- | --- | --- |
| 20.May.11 | | Karova Lounge, BALLARAT | | NSW | | |
| | | | | | | |
| --- | --- | --- | --- | --- | --- | --- |
| 02.Jun.11 | | Sol Bar, MAROOCHYDORE | | QLD | | |
| | | | | | | |
| --- | --- | --- | --- | --- | --- | --- |
| 03.Jun.11 | | Coolangatta Hotel, COOLANGATTA | | QLD | | |
| | | | | | | |
| --- | --- | --- | --- | --- | --- | --- |
| 04.Jun.11 | | The Zoo, BRISBANE | | QLD | | |
| | | | | | | |
| --- | --- | --- | --- | --- | --- | --- |
| 09.Jun.11 | | Prince Of Wales Hotel, BUNBURY | | WA | | |
| | | | | | | |
| --- | --- | --- | --- | --- | --- | --- |
| 11.Jun.11 | | The Bird, NORTHBRIDGE | | WA | | |
| | | | | | | |
| --- | --- | --- | --- | --- | --- | --- |
| 12.Jun.11 | | Norfolk Basement, FREMANTLE | | WA | | |