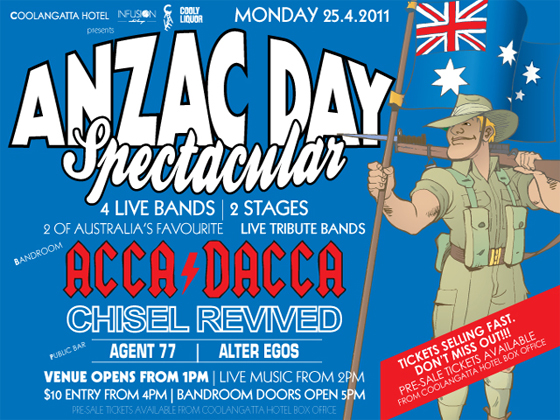 ANZAC DAY SPECTACULAR
Anzac Day will be rockin at the Cooly Hotel!
The Cooly Hotel will feature a huge double-header, featuring two of Australia's best live tribute bands - Acca/Dacca and Chisel Revived.
ACCA/DACCA is Australia's only internationally acclaimed, totally rockin', tribute show to the late great man of rock Bon Scott and the legend that is AC/DC. ACCA/DACCA replicate with precision not only the hard rock music of AC/DC note for note but front man Larry Attard caps the show off with passionate vocals that you would mistake for Bon Scott himself.
The ACCA/DACCA show always delivers a full earth shattering, mind blowing performance where the punters are taken on a one way ride on the Highway to Hell through such Bon Scott classics as Dirty Deeds, T.N.T, The Jack, Rosie and Let There Be Rock.
Brian Johnson fans won't be disappointed as ACCA/DACCA's set also blast out many of his famous hits such as Back in Black, Thunderstruck, Shook Me All Night Long, Hells Bells and many other classics.
Paying homage to Australian music legends Cold Chisel and rock icon Jimmy Barnes, are Chisel Revived. For over three decades, the songs of Cold Chisel and Jimmy Barnes have dominated the airways with their powerful brand of Aussie Rock.
From classic hits like Khe Sanh to When the War Is Over to the driving power of Working Class Man, Chisel Revived faithfully reproduce a huge cross-section of these unforgettable songs.
Fronted by the searing vocals of Tim Carter and his backing band of top class musicians, it will feel as if Cold Chisel has indeed been revived.
Topping all that off, local Gold Coast three-piece band Agent 77 and Gold Coast cover band Alter Egos will also be playing downstairs in the public bar from 2pm.
Crave Restaurant will be open for both lunch and dinner along with the bar menu throughout the venue to keep everyone's stamina up throughout the day and night.
The Coolangatta Hotel will open at 1pm, with live music from 2pm in the public bar.
Bandroom doors open at 5pm for the headlining ACCA/DACCA and Chisel Revived shows.

SEARCH FOR TICKETS NOW

| | | | | | | |
| --- | --- | --- | --- | --- | --- | --- |
| 25.Apr.11 | | The Coolangatta Hotel, COOLANGATTA | | QLD | | |