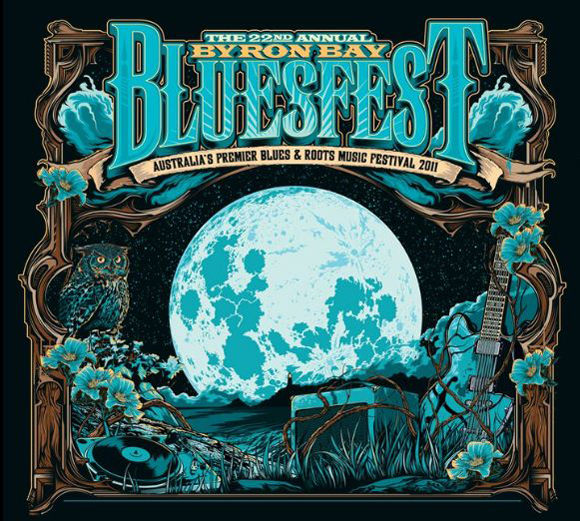 Bluesfest Presents
Winners of the Ultimate Bluesfest Back Stage Experience
Bluesfest from Byron Bay have, for the first time ever, added DAY 6, the Anzac Day Holiday, to its Bluesfest 2011 musical adventure.
We are pleased to announce that Robert and Patrice from Queenland have won the Ultimate Bluesfest Back Stage Experience! They will be able to watch their favourite artists perform their set from backstage!
Day 6 at Bluesfest 2011 will feature several stages with a big lineup of AMAZING international and local artists.
We can confirm the following stellar artists for your festival pleasure: Bob Dylan, Gurrumul, Paul Kelly, Tim Finn, Grace Jones, Elvis Costello & The Imposters, Leon Russell, George Clinton Parliament/Funkadelic, Buffy Sainte-Marie, Michelle Shocked, Warren Haynes & His Allstar Band, Tony Joe White and many more.
Bob Dylan - Bluesfest is proud to welcome back for an encore performance the Poet, Artist, Actor, Radio Announcer, Singer, Songwriter of the 20th century… absolute legend, Mr Bob Dylan - heading to Byron Bay for the very first time to play at Bluesfest.
Elvis Costello - also the long awaited Bluesfest debut of this international singer/songwriter superstar! Such diversity and credibility over the years with so many great songs will surely make for an unforgettably spectacular debut at Bluesfest.
George Clinton Parliament/Funkadelic - George Clinton, of course, is the mastermind of the bands Parliament and Funkadelic and one of the most important innovators of funk music alongside James Brown, Sly Stone and 2011 Bluesfest artists the Funky Meters. And folks, on our Tuesday our 6th day, all 32 of those Parliament/Funkadelic madmen will be performing their renowned 3 hour show!
Leon Russell - Leon is the genius musician, arranger, producer, singer, songwriter, pianist, guitarist, and touring musician who has collaborated with hundreds of artists including Joe Cocker, George Harrison, Eric Clapton, Bob Dylan, John Lennon, J.J. Cale, B.B. King, Gram Parsons, Ike & Tina Turner, Frank Sinatra, Aretha Franklin, Marvin Gaye, The Beach Boys, The Byrds, The Rolling Stones, and on it goes.
Gurrumul - exclusive to Bluesfest, who has not been bewitched by the hauntingly beautiful voice of Geoffrey Gurrumul Yunupingu over the past couple of years? His debut self-titled 2008 album has received exceptional worldwide reviews. It entered the European World Music Chart at number 8 and has since topped the Word Music charts across the continent.
Buffy Sainte-Marie - the foremost Native American performer of our time - is gracing Australian shores in her FIRST AUSTRALIAN tour in almost 40 years, her sideshows coinciding with her much anticipated tour here for Bluesfest. One of the genuine music greats that began in the 1960s and is still performing today, Buffy Sainte-Marie is a concert artist, extraordinary songwriter and composer, painter, digital artist, civil rights activist, pacifist, noted philanthropist, and educator on Native American culture.
Paul Kelly - one of the country's most enduring artists, songwriters and poets just picked up top honour, the Rolling Stone Award at recent Rolling Stone Awards 2011.This ARIA Hall of Famer is responsible for so many incredible songs: "How to Make Gravy", "From St Kilda to King's Cross", "To Her Door", "From Little Things Big Things Grow" (co-written with Kev Carmody), "Little Decisions", "Darling It Hurts", "I'll Be Your Lover" - and so many more.
Tim Finn - Tim Finn is responsible for some of Australasia's most treasured songs, including the Split Enz hits "Six Months in a Leaky Boat", "Poor Boy", "I See Red", and "I Hope I Never". With his brother Neil, Tim co-wrote the Crowded House hits "Weather With You", "It's Only Natural" and "Four Seasons in One Day". After lighting up Bluesfest 2009, Tim is back to impress us again in 2011. You can also expect his fantastic solo career hits "Fraction Too Much Friction", "Persuasion" and "Not Even Close", and the very best from his latest studio album The Conversation.
Tony Joe White - part of America's soundtrack - his music is sparse and elegant, filled with shadows, sadness and beauty. Elvis Presley, Ray Charles, Roy Orbison, Dusty Springfield, Etta James have in their own right honoured "the Swamp Fox" by cutting his tunes. You'll soon understand why.
Eli "Paperboy" Reed - it's quite a voyage that led to Eli "Paperboy" Reed being nominated for Breakthrough Artist of the Year at the 2009 MOJO Awards. In addition MOJO magazine named Eli Paperboy Reed's new album as one of the top 40 release of 2010.
This young soul belter has done time in a Mississippi Delta juke joint following high school in Boston, and with his red-hot band, he's now signed to Capitol Records. With the feel of classic R&B and gritty soul, he creates a sweaty party that pulls everyone onto the dance floor. Get ready to get down.
The Mad Bastards - Featuring Stephen Pigram, Alan Pigram and Alex Lloyd Stephen and Alan Pigram are legends of the Australian music scene. Hailing from Broome, the music of their much loved band the Pigram Brothers is widely regarded as "the sound of the Kimberley".
Alex Lloyd is one of Australia's most popular rock artists, having sold more than half a million records and being a triple-ARIA Award winner.

SEARCH FOR TICKETS NOW


| | | | | | | |
| --- | --- | --- | --- | --- | --- | --- |
| 26.Apr.11 | | Tyagarah Tee Tree Farm, TYAGARAH | | NSW | | |