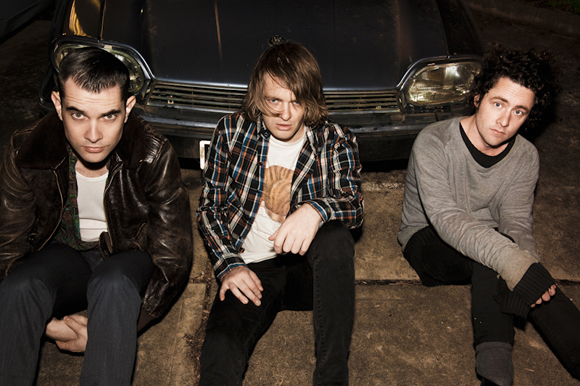 STREET PRESS AUSTRALIA, FASTERLOUDER, NEW WORLD ARTISTS & CRUCIAL MUSIC PRESENT
CHILDREN COLLIDE
STRAIGHT SHOOTING ON THE ARROWS TOUR EASTER WEEKEND, APRIL 2011
'There is no such thing as fate' rings out Children Collide's ARROWS single. But, pondering the inspiring rise of the Melbourne trio in recent years it would be sensible to doubt such an assured declaration. Now, the next chapter for their saga, Children Collide will headline shows to give a master lesson in frenetic performance. Here is where that all begins.
These three Children have just completed their second Big Day Out tour to great furor. Rapturous crowds clambered at op each other, sweaty disciples sang along with all their might, and hearts were won as Children Collide brought their very greatest to one of the world's biggest touring festivals. Sceptics can witness for themselves here. Flushed with the success of their best triple j Hottest 100result ever, Jellylegs (#22) and My Eagle (#60) have fast become live favourites. Children Collide are now storming ahead, latest album Theory of Everything trailing in their wake.
Now, for the recently converted and dedicated lifers alike, Children Collide will take off to play some truly delectable headline shows in support of single ARROWS. The band will take advantage of the extra-long Easter & ANZAC Day weekend to peddle their musical wares with the rampant hunger for which they are so loved. Expect similarly enthusiastic responses from crowds as Children Collide perform hit Brisbane, Sydney, Melbourne, Ferntree Gully & Perth.
ARROWS has Children Collide bringing along two acts that have a lengthy history with, having performed more than a few times in each others company. Sydney's Red Riders are preparing to return to the stage after a lengthy sojourn and add considerable fuel to Children Collides fire. They have been hard at it writing for a follow 2009's stirring Drown in Colour and are planning great things for the year of 2011. Likewise, Perth's Young Revelry have their sights set on a very big year, currently on the brink of an east coast relocation. Their reputation for an ear splitting, dynamic live show has ever been a compliment to Children Collides feverish on-stage antics.
ARROWS, the third single to be dealt from the Theory of Everything album was recorded by Rob Schnapf (The Vines / Elliot Smith / Beck) and was mixed by Neil Coomber & Cenzo Townsend (Florence & The Machine / Kaiser Chiefs / Franz Ferdinand). The accompanying clip is post-apocalyptic; featuring the last children on earth building a machine to escape their dire circumstances. The clip was shot at the White Bay Power Station in Sydney by acclaimed directors Gemma Lee and Charlie Clausen.
Theory of Everything is an adventure that is not yet to be forgotten. Who can tell what the future will hold once this chapter wraps itself up nice and tight. But Children Collide is one act whose flag is flying high in 2011. See them soar for yourselves on the Arrows tour.

SEARCH FOR TICKETS NOW


| | | | | | | |
| --- | --- | --- | --- | --- | --- | --- |
| 20.Apr.11 | | The Zoo, BRISBANE | | QLD | | |
| | | | | | | |
| --- | --- | --- | --- | --- | --- | --- |
| 21.Apr.11 | | The Metro Theatre, SYDNEY | | NSW | | |
| | | | | | | |
| --- | --- | --- | --- | --- | --- | --- |
| 22.Apr.11 | | Prince Bandroom, MELBOURNE | | VIC | | |
| | | | | | | |
| --- | --- | --- | --- | --- | --- | --- |
| 23.Apr.11 | | Ferntree Gully Hotel, MELBOURNE | | VIC | | |
| | | | | | | |
| --- | --- | --- | --- | --- | --- | --- |
| 25.Apr.11 | | Capitol, PERTH | | WA | | |