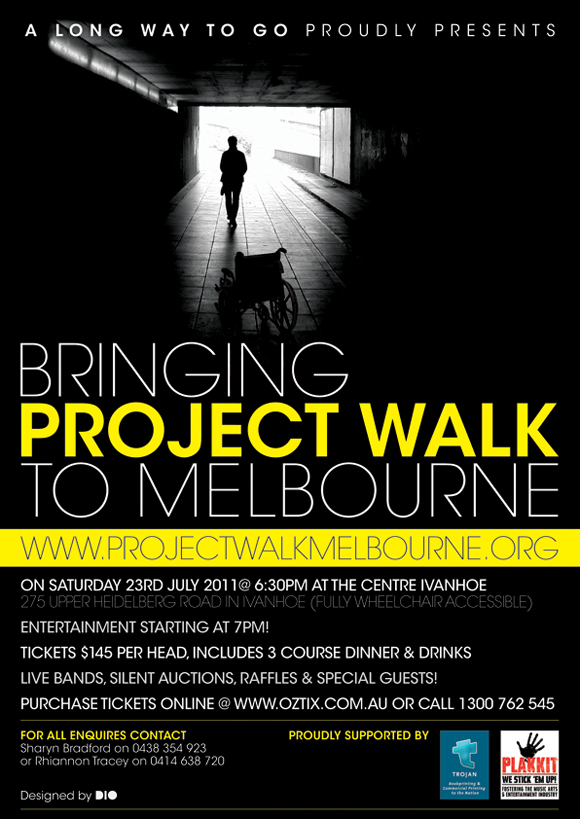 A Long Way to Go presents
Bringing Project Walk to Melbourne
The goal of Project Walk Melbourne is an advanced boot camp centre for people with Spinal Cord Injury located on the outskirts of Melbourne.
They're a group of people who've been brought together as a result of spinal cord injury. And they're putting all of their energies into doing something amazing, positive and full of hope.
They're going to need to raise funds through corporate sponsors, community organisations, fundraising events like our gala ball, and through the hard work of our dedicated team.
Project Walk will be a not for profit organisation, supported by our affiliated organisation A Long Way to Go. Spinal Cord Injury (SCI) is non discriminatory. It affects people young and old, from all walks of life. The most common age to have an SCI is 19, which means that a lot of our young people are affected.
It's not possible to recover from an SCI without the right mindset, a supportive family and friends, and unfortunately, without money and the right facilities.
Miracles can happen, and they do every day.
We are so excited about bringing Project Walk to Melbourne, so that we can share this amazing philosophy with other Victorian families.
Australians deserve more. Especially our youth.

SEARCH FOR TICKETS NOW


| | | | | | | |
| --- | --- | --- | --- | --- | --- | --- |
| 23.Jul.11 | | The Centre, IVANHOE | | VIC | | |