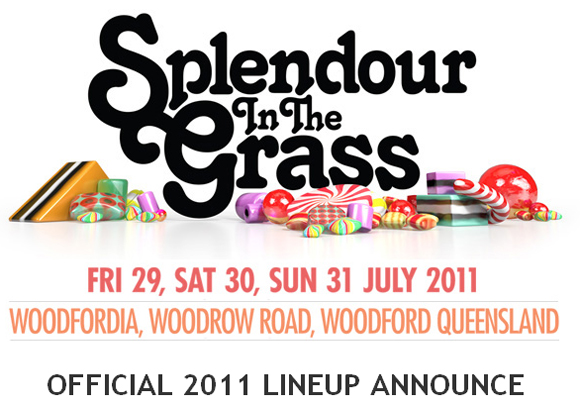 SPLENDOUR IN THE GRASS LINEUP
SPLENDOUR IN THE GRASS - the annual, ephemeral city of sounds that exists solely for sweet music and good times will transform Woodfordia, near Woodford, south east Queensland from Friday 29 to Sunday 31 July.
The eleventh SPLENDOUR IN THE GRASS event will see 81 acts giving their splendiferous best across three stages, the Amphitheatre, Mix Up Stage and GW McLennan Tent.
Continuing a tradition of serving up quality line-ups that span the breadth of an ever changing music landscape, SPLENDOUR 2011 will offer punters a heady selection of debut performances, festival favourites and promising emerging artists alongside exclusive appearances by some of the biggest and most established names in music today.
But first, we need to fill you in on some other important event information…
With one year at Woodfordia under our collective belts, regular SPLENDOUR punters might feel that they'll be familiar with the site – but don't think it's going to be a repeat of 2010. We like to mix things up a bit and keep you on your toes!
There will be a number of new bars, some new spaces to explore and changes here and there around the site.
More detailed information will be made available in the coming weeks but here's a brief overview of what to expect...
The Woodfordia campgrounds will open from 7am Wednesday 27 July until 5pm Monday 1 August. Please note the entire festival site including the three main stages (Amphitheatre, Mix Up Stage and GW McLennan Tent) will operate on Friday, Saturday and Sunday only.
For those camping onsite, the event area will open from 9am Thursday 28 July with a bunch of spaces and entertainment in full swing to keep you busy right across the weekend, including the following much loved festival features…
The GLOBAL VILLAGE is back with more of the performances, workshops, lifestyle outlets, market stalls and global food fair that punters love. That golden triangle that is the TIPI FOREST will also be back and ready to mesmerize.
Be sure to check out the VERY SMALL MALL and book a treatment at the SPLENDOUR DAY SPA to be looking your festival best before you drop into the SMIRNOFF COCKTAIL BAR, MO'ROCKIN' WINE BAR or the new BAR NEW ORLEANS by the "bayou".
Oh so much to do before the music even starts! Some of the most memorable SPLENDOUR moments come from the amazing arts you stumble across on site.
Aside from the all important music and entertainment spaces, punters can expect to see an amazing new SPLENDID ARTS PROGRAM.
SPLENDOUR IN THE GRASS has a history of delivering innovative initiatives to lighten our environmental footprint. SPLENDOUR and its army of committed punters have offset thousands of tonnes of carbon via carbon offset tickets and recycled hundreds of thousands of drink containers through our popular recycling system that will make a return this year.
Watch this space for info about some great incentives to get involved in keeping SPLENDOUR green!
Finally, due to the very heavy traffic congestion when arriving and departing SPLENDOUR IN THE GRASS 2010 we have spent the past year working on initiatives that will simultaneously ease traffic on local roads and within Woodfordia, whilst also creating a greener event.
Borrowing from other International music festivals that have experienced similar issues, and in an effort to radically reduce traffic congestion, we will be implementing a car pass system which will encourage carpooling.
More info on this plan and all of SPLENDOUR's environmental initiatives will be supplied in the coming weeks. Now, getting back to the real business at hand!
Get ready to pick and choose from an incredible line-up of acts and soak it in for three monumental days.
SPLENDOUR IN THE GRASS is proud to present you with the long list of acts that will take to the three main stages in 2011.
• COLDPLAY (only Australian show)
• KANYE WEST (only Australian show)
• JANE'S ADDICTION
• THE HIVES
• PULP
• THE LIVING END
• THE MARS VOLTA
• REGINA SPEKTOR (only 2011 show…anywhere)
• BLISS N ESO
• PNAU
• MOGWAI (only Australian show)
• DJ SHADOW
• GLASVEGAS
• THE GRATES
• DEVENDRA BANHART
• MODEST MOUSE
• THE MIDDLE EAST
• KAISER CHIEFS
• JAMES BLAKE
• KELE
• THE VINES
• ELBOW
• ESKIMO JOE
• NOAH AND THE WHALE
• CHILDREN COLLIDE
• THIEVERY CORPORATION
• CUT COPY
• ISOBEL CAMPBELL AND MARK LANEGAN
• THE KILLS
• BLUEJUICE
• BLACK JOE LEWIS & THE HONEYBEARS (featuring THE RELATIVES)
• ARCHITECTURE IN HELSINKI
• FOSTER THE PEOPLE
• THE PANICS
• FRIENDLY FIRES
• JEBEDIAH
• THE VACCINES
• GOMEZ
• BOY AND BEAR
• GOTYE
• DOES IT OFFEND YOU YEAH?
• CLOUD CONTROL
• MONA
• SPARKADIA
• WARPAINT
• MUSCLES (Live)
• FITZ AND THE TANTRUMS
• THE JEZABELS
• DRAPHT
• BRITISH SEA POWER
• TIM & JEAN
• LEADER CHEETAH
• GROUPLOVE
• SEEKER LOVER KEEPER
• YELLE
• KIMBRA
• PHRASE
• OH MERCY
• DANANANANAYKROYD
• THE BLACK SEEDS
• MARQUES TOLIVER
• THE HOLIDAYS
• GHOUL
• LIAM FINN
• THE HERD
• YOUNG THE GIANT
• GUINEAFOWL
• HUNGRY KIDS OF HUNGARY
• JINJA SAFARI
• WILD BEASTS
• ILLY
• CUT OFF YOUR HANDS
• GARETH LIDDIARD
• ALPINE
• WORLD'S END PRESS
• MOSMAN ALDER
• LANIE LANE
For punters keen to make shapes on the dance floor, the following DJs will be mixing it up across the three days:
• THE ASTON SHUFFLE
• FLIGHT FACILITIES
• D-CUP (WE NO SPEAK AMERICANO)
• AJAX (MEGA JAM SET)
• HOODRAT & DANGEROUS DAN
• LIGHT YEAR
• HOOPS
• CASSIAN
• WAX MOTIF
• KATO
• TONI TONI LEE
• CHARLIE CHUX
• TRANTER
SPLENDOUR IN THE GRASS 2011 TICKET PRICES
Event-only tickets will cost $390 (inc gst) + booking fees, which gains entry to the festival for 3 days, from Friday 29 July to Sunday 31 July.
Event/camping tickets will cost $510 (inc gst) + booking fees.
The campgrounds will be open from 7am Wednesday 27 July until 5pm Monday 1 August.
For those camping onsite, the event area will open 9am Thursday with entertainment scheduled in the Global Village, Smirnoff Cocktail Bar and Tipi Forest.
Please note the entire festival site including main stages Amphitheatre, Mix Up Stage and G.W. McLennan Tent will operate on Friday, Saturday and Sunday only.

Need your festival fix?
Search for GUMBALL here.
Dashville - Friday 29 April 2011 to Saturday 30 April 2011
Search for SUPAFEST here.
QLD, NSW - April 2011