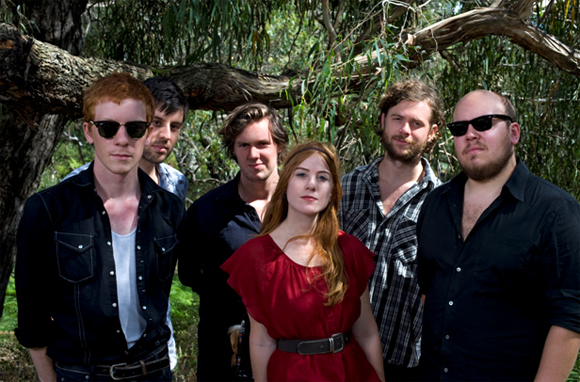 Triple J & Street Press Australia Present
The Middle East - 'I Want That You Are Always Happy' National Tour
Today sees Townsville band The Middle East release their long-anticipated debut album "I Want That You Are Always Happy".
The band will take their new album out on the road this June for an album launch tour involving a series of performances around the country.
"I Want That You Are Always Happy" is dark, melancholy, thick with melody and eventually instilled with hope.
The band may have taken their time with it, but Townsville time is a slower than your average city clock. Recorded between tours at the band's' Townsville studio in late 2009, the band then shifted to Midlake's Denton studio in March 2010 after their performances at the South by South West festival.
Upon returning from their international travels, The Middle East put the finishing touches on the album within a makeshift Cairns-based studio.
The album is the follow up to the band's 2009 EP "The Recordings of The Middle East", and features the songs "Jesus Came To My Birthday Party", "Black Death 1349" and "Land of the Bloody Unknown".
SEARCH FOR TICKETS NOW


| | | | | | | |
| --- | --- | --- | --- | --- | --- | --- |
| 13.Jun.11 | | Karova Lounge, BALLARAT | | VIC | | |
| | | | | | | |
| --- | --- | --- | --- | --- | --- | --- |
| 15.Jun.11 | | The Old Museum, BRISBANE | | QLD | | |
| | | | | | | |
| --- | --- | --- | --- | --- | --- | --- |
| 19.Jun.11 | | The Cabridge Hotel, NEWCASTLE | | NSW | | |