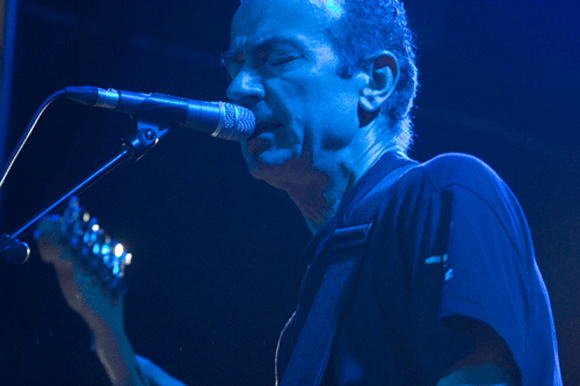 Rocksoup Presents
HUGH CORNWELL
Former Stranglers front man Hugh Cornwell will tour Australia in April this year. The show will feature two sets - the first will feature a collection of Stranglers hits and classic solo material, with the second featuring The Stranglers seminal debut album 'Rattus Norvegicus IV' being performed in its entirety for the first time in Australia.
Cornwell is one of the UK's finest songwriting talents and accomplished live performers - the original guitarist, singer and main songwriter in the Stranglers, Hugh enjoyed massive UK and European success with ten hit albums and 32 top forty singles, etching himself into the UK's musical psyche with songs such as Peaches, No More Heroes, Golden Brown, Always the Sun, Grip, Nice N Sleazy, Duchess and No Mercy, all of which will be performed on this tour.
One of the biggest hits, Golden Brown', saw renewed popularity when it was featured in Guy Ritchie's 2000 blockbuster, 'Snatch', as did 'Peaches' being the opening sequence In full for the classic 'Sexy Beast'. Hugh Cornwell has released eight solo albums, most recently the acclaimed Hooverdam, produced and mixed in ToeRag Studios by Liam Watson, (known for the Grammy winning White Stripes' album 'Elephant').
Hooverdam is available as a high-quality free download in twelve languages from Hugh's website at www.hughcornwell.com bringing his music free to the world's population. The release is a triple-sleeved digipak, featuring both CD and live studio performance DVD in one exclusive package, as well as being available on vinyl.
With the free download, Cornwell breaks new ground and proves once again to be a unique force in British music. 'New Songs for King Kong', a limited edition live double CD and vinyl album, recorded on the last UK tour, features both 'Hooverdam' and 'Rattus Norvegicus IV' in their entirety and is also available exclusively from Hugh's website and will be available to buy at the shows each night.
"Hooverdam is a cousin to Lou Reed's storming 1988 LP, New York. A very coherent album with a timeless quality" – Record Collector.
"He remains a hugely popular and prolific performer who's songwriting retains its fiery eloquence and whose gigs still crackle with electricity" – Classic Rock.

SEARCH FOR TICKETS NOW


| | | | | | | |
| --- | --- | --- | --- | --- | --- | --- |
| 30.Apr.11 | | Kings Beach Tavern, CALOUNDRA | | QLD | | |
| | | | | | | |
| --- | --- | --- | --- | --- | --- | --- |
| 01.May.11 | | Coolangatta Hotel, COOLANGATTA | | QLD | | |
| | | | | | | |
| --- | --- | --- | --- | --- | --- | --- |
| 03.May.11 | | Sawtell Hotel, SAWTELL | | NSW | | |
| | | | | | | |
| --- | --- | --- | --- | --- | --- | --- |
| 04.May.11 | | The Cambridge Hotel, NEWCASTLE | | NSW | | |
| | | | | | | |
| --- | --- | --- | --- | --- | --- | --- |
| 05.May.11 | | Manning Bar, SYDNEY | | NSW | | |
| | | | | | | |
| --- | --- | --- | --- | --- | --- | --- |
| 06.May.11 | | Ferntree Gully Hotel, FERNTREE GULLY | | VIC | | |