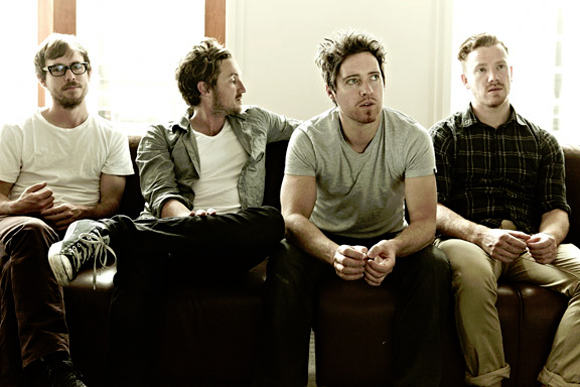 New World Artists Presents
TRIAL KENNEDY
Trial Kennedy is proud to announce their BEST OF TOMORROW Tour, commencing in April 2011.
As a newly independent band, 2010 has been an eventful year for Melbourne's Trial Kennedy.
The band has reconnected with their fans at many critically acclaimed shows around the country, headlining as well as supporting rock 'n' roll comrades Shihad, Grinspoon and The Living End.
After recruiting a new bass player, Ritchie Buxton, the band has gone in production overdrive; writing, recording and mixing their new album.
The recording sessions, at Melbourne's SING SING studio, were an incredibly liberating and therapeutic experience for the band and the result has lifted them to new sonic heights.
Trial Kennedy's first taste of things to come is their single "STRANGE BEHAVIOUR" which was added by Triple J within minutes of leaving the 301 mastering desk and has made some serious waves on air.
This has been supported by Triple J's Music Director, Richard Kingsmill, who says, "STRANGE BEHAVIOUR "sounds great on air".
Their first headline tour for 2011, the BEST OF TOMORROW Tour, will take the band to small venues around the country for small, intimate shows which are not to be missed!
SEARCH FOR TICKETS NOW

| | | | | | | |
| --- | --- | --- | --- | --- | --- | --- |
| 13.May.11 | | Ding Dong Lounge, MELBOURNE | | VIC | | |
| | | | | | | |
| --- | --- | --- | --- | --- | --- | --- |
| 14.May.11 | | The Pelly Bar, FRANKSTON | | VIC | | |
| | | | | | | |
| --- | --- | --- | --- | --- | --- | --- |
| 19.May.11 | | City Diggers, WOLLONGONG | | NSW | | |
| | | | | | | |
| --- | --- | --- | --- | --- | --- | --- |
| 20.May.11 | | The Cambridge Hotel, NEWCASTLE | | NSW | | |
| | | | | | | |
| --- | --- | --- | --- | --- | --- | --- |
| 21.May.11 | | Annandale Hotel, ANNANDALE | | NSW | | |
| | | | | | | |
| --- | --- | --- | --- | --- | --- | --- |
| 27.May.11 | | The Zoo, BRISBANE | | QLD | | |
| | | | | | | |
| --- | --- | --- | --- | --- | --- | --- |
| 28.May.11 | | Miami Tavern Shark Bar, MIAMI | | QLD | | |
| | | | | | | |
| --- | --- | --- | --- | --- | --- | --- |
| 02.Jun.11 | | Prince Of Wales Hotel, BUNBURY | | WA | | |
| | | | | | | |
| --- | --- | --- | --- | --- | --- | --- |
| 03.Jun.11 | | Amplifier Bar, PERTH | | WA | | |
| | | | | | | |
| --- | --- | --- | --- | --- | --- | --- |
| 04.Jun.11 | | Jive, ADELAIDE | | SA | | |
| | | | | | | |
| --- | --- | --- | --- | --- | --- | --- |
| 12.Jun.11 | | Ferntree Gully Hotel, FERNTREE GULLY | | VIC | | |
| | | | | | | |
| --- | --- | --- | --- | --- | --- | --- |
| 17.Jun.11 | | Granada Tavern, BERRIEDALE | | TAS | | |
| | | | | | | |
| --- | --- | --- | --- | --- | --- | --- |
| 18.Jun.11 | | Hotel New York, LAUNCESTON | | TAS | | |