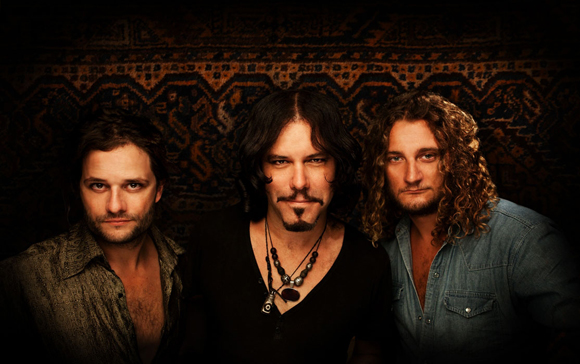 Riverland records & JGR Management presents
JEFF MARTIN
Jeff Martin, perhaps more than ever, knows what he wants. He knows what he wants to create in music, in part because he knows damn well what he likes to hear. It's about balance and diversity and these days the cup is overflowing.
"If I'm going to commit to listening to a record by an artist, especially in rock'n'roll, I don't want to hear 10 or 11 songs that are in the same vein or are of the same sound," says Martin .
"My favourite albums are all over the map. Where you can tell it's the same band, but it's a band that's stretching its wings and are not afraid to walk to the edge of the precipice and look over and perhaps fall. That's what I want this band to be."
With his latest venture The Ground Cries Out, this Canadian legend not only tests his own theory of boundary-pushing, he takes on that precipice with ardent enthusiasm and stunning results.
Forged in the spirit of the classic power trio, The Ground Cries Out boasts Martin working with/inspired by likeminded and equally-talented musicians in bass player/multi-instrumentalist Jay Cortez and long time friend and revered session/touring drummer Malcolm Clark.
Inspired and forthright, the otherworldly triumvirate's incomparable chemistry ensures this latest outing bearing Martin's name is easily his most accomplished and varied to date; in keeping with his demand for the aforementioned inspiration and disparity required for an album to earn his appreciation. And what drove him to such great heights?
"As an artist, with each new album I do, I have to feel I am evolving," Martin reveals about the motivation behind The Ground Cries Out. "When it comes down to brass tacks, this is all about the new personalities involved. My solo record, Exile And The Kingdom was basically things leftover that weren't applicable over the last three records The Tea Party did. Then there was The Armada, which was basically myself and Wayne Sheehy, two very different personalities coming together. We made some great music on that record and that was cool but this record is with a complete band."
Divulging his adoration for the abilities and personalities of Cortez and Clark, Martin notes that much of The Ground Cries Out is influenced directly by them. Tapping into the ages-old friendships for influence, despite its dark blues-inflections, the album is truly spawned from respect and reverence.
Recorded at Malcolm's Roving Yo-Yo Studio, The Ground Cries Out revels in rock, swagger, Eastern reflection and Martin's inherent sturm und drang. It's a time of artistic license and freedom.
"Early on, my music had that infusion of Middle Eastern elements into rock 'n' roll, taking a page out of Led Zeppelin and The Beatles and pushing it further," Martin asserts regarding The Ground Cries Out's fresh aural perspective. "Over the years, I've continued my studies as far as music in that part of the world is concerned, so I'm a lot wiser to it and I'm trying to apply it to this rock 'n' roll music. I'm finding this new music we're creating is dark yet sexy but there is an element of joy as well. We're having a ball doing it."
Amalgamating his own wealth of divergent styles with such formative and congenitally pelvic moods, musically, The Ground Cries Out is richly textured and dichotomously enthralling. Still, ever one to ensure the lyrical aspect never suffers, Martin pulls out all stops for this experience, dedicating the album's entirety to the influence of a work by Sufi poet Rumi and the spiritual practice it spawned.
"I've been aware of it for a very long time but I've been gravitating towards it more and more for the last couple of years. I'm still very much a student of a lot of the maxims of Aleix webster Crowley and things like that but when the sun is shining, it doesn't really make any sense to be going down that path. Being a Libra, I'm always searching for balance in my life. These songs reflect that lyrically and the music behind it is Sufi but also rock 'n' roll. Malcolm's laying down these drums with a beat like John Bonham on 'Immigrant Song' but the music that's surrounding it is so lush and exotic, it's one of the proudest musical moments I have. It's a big musical statement."
What began as an acoustic demo called Blues For DeVilles, celebrating the trio's favourite Perth nightspot, has morphed into the rum-soaked Queen Of Spades. Seemingly haunted by the mythical Carribean voodoo queen, Zora Neale, herself, it's a voodoo love affair with an all-in stomp that's tongue in cheek and fun to boot. The Cobra, meanwhile, deals in another avenue of Martin's studies, this time tantra and sex majick.
"The song sounds like a very sexy snake," he grins, "slithering through the desert sand in Turkey or somewhere like that."
From the blues to the sublime, She's Leaving contemplates a woman putting up with the irresponsible actions of a neglectful lover, taking its cue from such past Martin-penned songs as Psychopomp and Walking Wounded.
In childhood, classical music echoed through the household and Martin recently reacquainted with Norwegian composer Arvo Pärt's moving Cantos A Benjamin, a piece of music that had both mesmerised and terrified him as a seven year-old. Most importantly however, as noted, The Ground Cries Out is Martin's long-awaited step back into the full band circle.
The music this army of three are creating is a nod to the past with an eye to the future; an impressive view from the dynamically diverse precipice of creativity.
"There are a few songs on the record–especially the ones that gravitate more towards the blues – there's a real tongue-in-cheek, glint-in-the-eye thing. We're having some fun and that's important to me. I'm at a point where I don't have to do this anymore but I want to do it more than ever before. That's the key to where this album's passion comes from. I want the audience to feel this is joyous. This is passionate. This is rock'n'roll, and it's the real deal".

SEARCH FOR TICKETS NOW
More dates to be announced


| | | | | | | |
| --- | --- | --- | --- | --- | --- | --- |
| 04.May.11 | | The Northern, BYRON BAY | | NSW | | |
| | | | | | | |
| --- | --- | --- | --- | --- | --- | --- |
| 12.May.11 | | Brass Monkey, CRONULLA | | NSW | | |
| | | | | | | |
| --- | --- | --- | --- | --- | --- | --- |
| 13.May.11 | | Vault 146 Restaurant, WINDSOR | | NSW | | |
Need your live music fix?
Search for FLOATINGME here.
Touring April 2011

Search for ADALITA here.
Touring April 2011

Search for JEBEDIAH here.
Touring May - July 2011