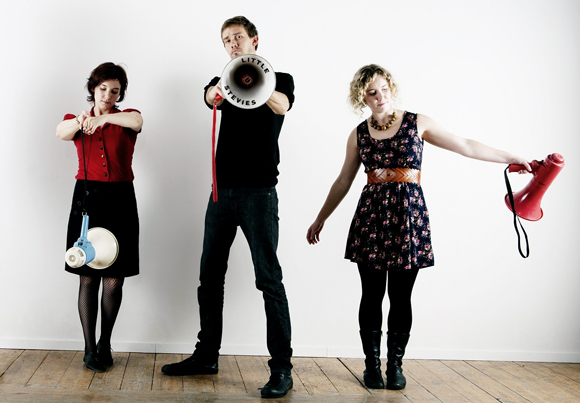 Love Your Records presents
THE LITTLE STEVIES
Having charmed the world with their enchanting 2009 debut 'Love Your Band' The Little Stevies have upped the ante - and the volume - with their newest offering, 'Attention Shoppers'.
Recorded in the USA with LA-based producer Ethan Allan (Tim Finn, Kristin Hersh, Luscious Jackson), the new album is a break away for the more laid-back, folk-influenced style of their first, and takes the band's sound into a poppier, slicker and harder-edged territory.
Flying in to Australia especially to join The Little Stevies on stage is New Zealand's multi-platinum selling songstress Anika Moa.
On her three albums released to-date Anika has achieved almost all there is to achieve in her home country, while retaining the endearing, confessional and cheeky quality that first made her home crowd fall in love with her.
Rarely will you see two acts who consistently connect with their audiences on such a personal level as The Little Stevies and Anika Moa.
Their songwriting is heartfelt and honest, their stage performances, humour and upbeat sense of fun always leave audiences smiling and wanting more.
This is a show not to be missed.

SEARCH FOR TICKETS NOW


| | | | | | | |
| --- | --- | --- | --- | --- | --- | --- |
| 07.Apr.11 | | The Loft, BRISBANE | | QLD | | |
| | | | | | | |
| --- | --- | --- | --- | --- | --- | --- |
| 08.Apr.11 | | The Globe Theatre, BRISBANE | | QLD | | |
| | | | | | | |
| --- | --- | --- | --- | --- | --- | --- |
| 09.Apr.11 | | Mullumbimby Civic Hall, MULLUMBIMBY | | NSW | | |
| | | | | | | |
| --- | --- | --- | --- | --- | --- | --- |
| 16.Apr.11 | | Karova Lounge, BALLARAT | | VIC | | |
| | | | | | | |
| --- | --- | --- | --- | --- | --- | --- |
| 06.May.11 | | Great Northern Hotel, NEWCASTLE | | NSW | | |
| | | | | | | |
| --- | --- | --- | --- | --- | --- | --- |
| 08.May.11 | | Brass Monkey, CRONULLA | | NSW | | |