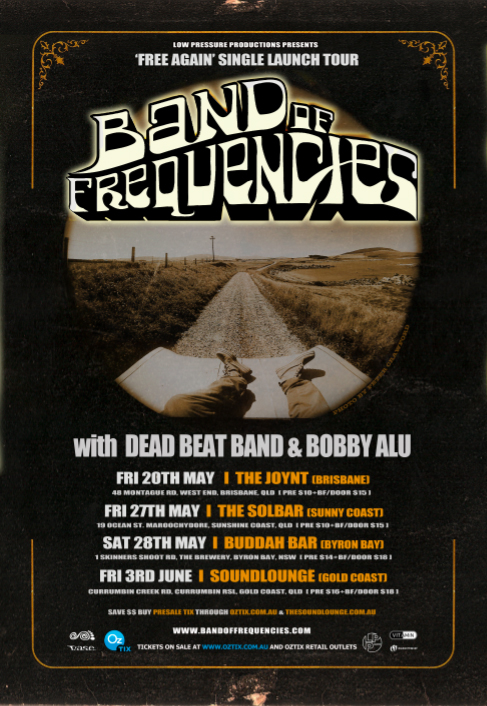 Low Pressure Productions presents
BAND OF FREQUENCIES
With an ethos of freedom from any limitations, Band of Frequencies draw their influences from a vast spectrum of roots, reggae, rock, soul, spiritual jazz, electronic and psychedelic styles to create their own expression.
The band coined the phrases Free Soul, Cyclonic Sonics and Liberation Harmonics to describe their intentions to "allow the present moment to evolve into a sound future while reflecting a deep respect for all who have come before us."
It's this spirit that resonates within passionate music lovers who have embraced their sound. It's this essence that has lead to invitations to grace the stages of diverse festivals, at home and abroad, and record soundtracks to several internationally released surf films.
Shannon Sol R. Carroll leads the band on guitar and vocals. His distinctive guitar playing has featured in many well known groups of different styles over the years. A founding member of Afro Dizzi Act and The Visitors, he has also recorded and toured with the Resin Dogs, Banawurun, H-Foundation and Soul Prism to name a few.
Joining him to create the core of the band are two old friends and long time collaborators. Oj Newcomb is a phenomenal electric and double bass player who brings an underwater canyon of depth and groove to the band.
Together with Mark Henman's mind blowing beats and intricate electronic influenced breaks on drums they form a cohesive and explosive trio that soars beyond the sum of its parts.
Band of Frequencies are often also joined by guest musicians including environmentalist, free surfer and close friend Dave Rastovich who's melodic percussion and cosmic array of instruments bring a welcome addition to the group.
Shannon and Dave recently featured in 'The Present', a highly acclaimed surf film by renowned Californian filmmaker Thomas Campbell (Sprout, The Seedling) in a trip to West Africa where they recorded music with local griot musicians and surfed some incredible waves.
The film and soundtrack were released through Jack Johnson's label Brushfire Records. Band of Frequencies first International release was the soundtrack to "Under the Sun", a film by Californian filmmaker Cyrus Sutton.
The double album also features a collaboration with multi instrumentalist/producer Shawn Lee and has been released through Californian label Ubiquity Records.

SEARCH FOR TICKETS NOW


| | | | | | | |
| --- | --- | --- | --- | --- | --- | --- |
| 20.May.11 | | The Joynt, WEST END | | QLD | | |
| | | | | | | |
| --- | --- | --- | --- | --- | --- | --- |
| 27.May.11 | | Sol Bar, MAROOCHYDORE | | QLD | | |
| | | | | | | |
| --- | --- | --- | --- | --- | --- | --- |
| 28.May.11 | | The Buddah Bar, BYRON BAY | | NSW | | |