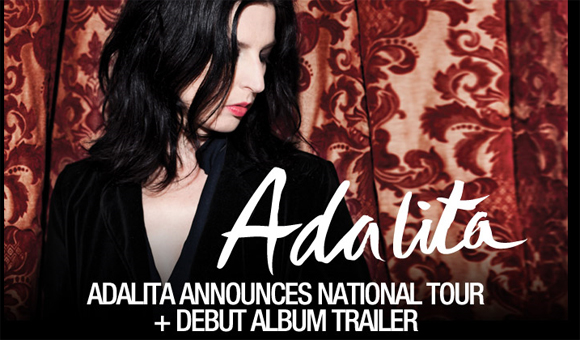 Triple J Presents
ADALITA
With the release of the highly anticipated debut album just around the corner, Adalita announces a massive national tour for March & April. 'Adalita' the debut solo record, is a collection of ten songs that captures her at her most raw and unaffected.
It showcases the breadth of her songwriting talents. The music isn't so much a radical departure from Magic Dirt as it is a distillation of everything that band represents, with the layers of instrumentation stripped away, leaving only the bare bones of the songs themselves.
And those songs are stark and heartfelt. They're startlingly direct at times. They're austere and beautiful and powerful. 'Adalita' is one of the best solo debuts of recent times.
It's already one of the best albums of the year.
"Guitar is caressed and battered. That voice comes through with a longing human need and want. She speaks plainly. Among possible references: Cat Power, PJ Harvey. Its quiet insistence gets in your head. She remains a compelling mix of strength and fragility. And as such, honest." - Drum Media Sydney
www.adalita.com

SEARCH FOR TICKETS NOW


| | | | | | | |
| --- | --- | --- | --- | --- | --- | --- |
| 24.Mar.11 | | The Northern, BYRON BAY | | NSW | | |
| | | | | | | |
| --- | --- | --- | --- | --- | --- | --- |
| 25.Mar.11 | | The Old Museum, BRISBANE | | QLD | | |
| | | | | | | |
| --- | --- | --- | --- | --- | --- | --- |
| 01.Apr.11 | | The Loft, WARRNAMBOOL | | VIC | | |
| | | | | | | |
| --- | --- | --- | --- | --- | --- | --- |
| 07.Apr.11 | | The Bended Elbow, GEELONG | | VIC | | |
| | | | | | | |
| --- | --- | --- | --- | --- | --- | --- |
| 08.Apr.11 | | Karova Lounge, BALLARAT | | VIC | | |
| | | | | | | |
| --- | --- | --- | --- | --- | --- | --- |
| 15.Apr.11 | | Great Northern Hotel, NEWCASTLE | | NSW | | |