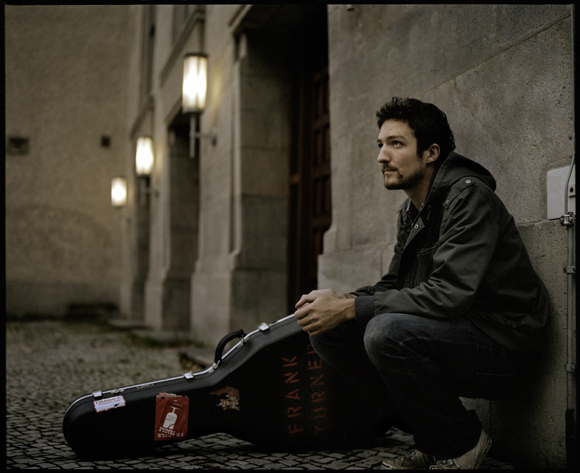 Blue Murder and Bombshell present
FRANK TURNER
After a busy few months of writing and recording tracks in a studio in North London, Frank Turner emerges with details of his forthcoming album, plus dates for an Australian solo tour, after a hugely successful run of shows with The Revival Tour early last year.
Folk/punk hero (and NME Award nominee for Best Solo Artist) Frank will release his highly anticipated fourth album 'England Keep My Bones' on 6th June 2011 through Xtra Mile Recordings for UK and Ireland and on 7th June 2011 through Epitaph Records for the rest of the world.
Recorded in Crouch End's stunning Church Studios, Frank, together with his band and producer Tristan Ivemy has, as the name of the album suggests, created a record with the quintessential English sound Frank has been searching for.
Unsurprisingly, for an artist who spends the majority of his time travelling around the world, 'England Keep My Bones' has a nostalgic feel to it – an homage to his homeland, friends and family he so often has to leave behind.
With the acoustic guitar very much at its core, the album is more folky than predecessor 'Poetry Of The Deed' and even includes an a cappella song done in a traditional English style.
Featuring contributions from ex-Hold Steady keyboardist Franz Nicolay, folk singers Emily Barker and Chris T-T, and Unbelievable Truth's Andy Yorke, he covers themes of mortality, relationships and religion in what is a bold, ballsy yet beautiful album.
Frank says:"I can't wait to get this record out there. The new songs have been going down really well live, but I think that when people hear the studio versions they're going to go nuts. I think it's the strongest set of material I've had on one record."
He will be showcasing some of these tracks when he takes to the road for a special solo tour in April.
Playing small and intimate venues up and down the country, this will be a fantastic chance to see Frank up close and personal before he spends the summer playing to vast crowds of festival go-ers all over the world.
Frank Turner "England Keep My Bones", out June 3 on Epitaph Records

SEARCH FOR TICKETS NOW


| | | | | | | |
| --- | --- | --- | --- | --- | --- | --- |
| 13.Apr.11 | | The Arthouse, MELBOURNE | | VIC | | |
| | | | | | | |
| --- | --- | --- | --- | --- | --- | --- |
| 15.Apr.11 | | Annandale Hotel, ANNANDALE | | NSW | | |
| | | | | | | |
| --- | --- | --- | --- | --- | --- | --- |
| 16.Apr.11 | | Rosies, BRISBANE | | QLD | | |