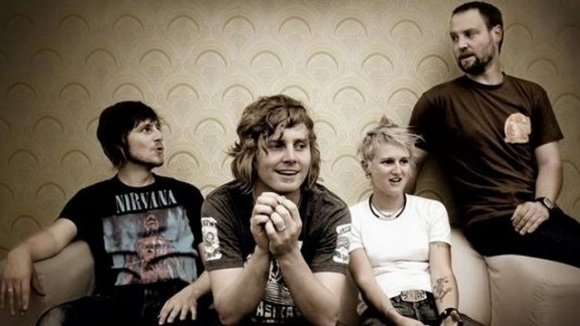 JEBEDIAH'S KOSICUSZKO TOUR NEARS ITS PEAK

Perth's purveyors of punk-rock Jebediah have SOLD OUT their Melbourne show at The Corner Hotel on Friday 6th May and have promptly added a second show to The Corner's calendar on Thursday 5th May. With tickets selling fast elsewhere in the country the band have further expanded The Kosciuszko Album Tour, adding a new show for their southern fans in Hobart at the Republic Bar on Friday 22nd July.

Canberra fans will need to note a change in venue for their Thursday 26th May show. They will now see Jebediah take the stage at the ANU bar and tickets originally purchased for The Maram will be honoured by the new venue.

With Jebediah's single 'She's Like a Comet' climbing up the airwaves all over the country, it's little wonder this tour is selling fast. And for those that can't wait for May to get their Jebs fix, the band have announced some exclusive Kosciuszko pre-order deals for the album, that loyal Jebediah fans can get their hands on via www.jebediah.net.

Jebediah's Kosciuszko Album Tour is on sale now, and once again Jebediah remind their regional friends to stay put, a nice surprise will be coming their way in good time.

Their album "Kosciuszko" will be released on Friday 15th April via Dew Process/UMA.
SEARCH FOR TICKETS NOW


| | | | | | | |
| --- | --- | --- | --- | --- | --- | --- |
| 05.May.11 | | Corner Hotel, MELBOURNE | | VIC | | |
| | | | | | | |
| --- | --- | --- | --- | --- | --- | --- |
| 07.May.11 | | The Bended Elbow, MELBOURNE | | VIC | | |
| | | | | | | |
| --- | --- | --- | --- | --- | --- | --- |
| 26.May.11 | | ANU Bar, CANBERRA | | ACT | | |
| | | | | | | |
| --- | --- | --- | --- | --- | --- | --- |
| 27.May.11 | | The Factory Theatre, SYDNEY | | NSW | | |
| | | | | | | |
| --- | --- | --- | --- | --- | --- | --- |
| 28.May.11 | | The Cambridge Hotel, SYDNEY | | NSW | | |
| | | | | | | |
| --- | --- | --- | --- | --- | --- | --- |
| 04.Jun.11 | | The Irish Club, TOOWOOMBA | | QLD | | |
| | | | | | | |
| --- | --- | --- | --- | --- | --- | --- |
| 10.Jun.11 | | Astor Theatre, PERTH | | WA | | |
| | | | | | | |
| --- | --- | --- | --- | --- | --- | --- |
| 12.Jun.11 | | The Gov, ADELAIDE | | SA | | |
| | | | | | | |
| --- | --- | --- | --- | --- | --- | --- |
| 22.Jul.11 | | The Republic Bar, NORTH HOBART | | TAS | | |