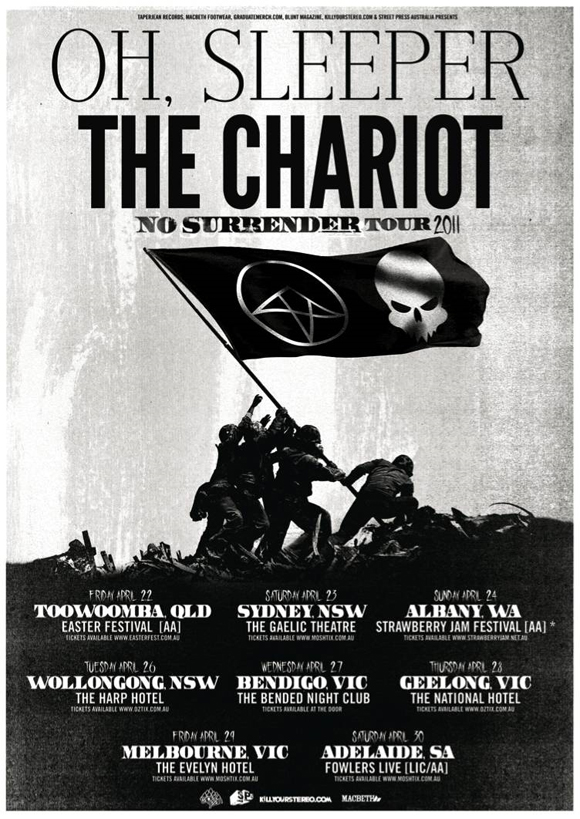 Taperjean Records, SPA, Blunt Magazine, Killyourstereo.com & Macbeth footwear presents
NO SURRENDER TOUR 2011
Taperjean Records is proud to announce the inaugural NO SURRENDER Tour 2011 featuring two of the most exciting heavy acts, OH SLEEPER (USA) & THE CHARIOT (USA).
The tour will storm from Toowoomba to Perth, with capital and regional cities in between.
Texans OH, SLEEPER are returning on the back of a successful Australian tour in September 2010.
From playing stages across the globe with the likes of Underoath, Bring Me The Horizon and Every time I Die, it is evident through their live performances and albums that OH, SLEEPER are masters of their art.
Australian fans will have the privilege of being one of the first to hear tracks from the bands as yet untitled 3rd studio album which is slated for a mid 2011 release.
Joining the bill is Georgia's finest The Chariot, whom will be bringing their intense live shows to Australia for the very first time.
Having released their critically acclaimed 4th studio album "Long Live" which has fans and critics singing the bands praises.
However it is the bands live show that shall forever live on as the beating pulse of the band's heart. The sheer force of their thunderous live renditions while maniacally pouring their entire physical being into each note captivates and jolts an audience into awe and utter appreciation.
It is this experience, undeniable and unavoidable by anyone attending their show.
Brisbane's pop punk upstarts " I Am Villain" have been confirmed as the national support for the tour . Having formed in spring 2009 the five piece have been turning heads with their dynamic brand of pop punk and have began touring relentlessly having supported the likes of Mest (USA), Fireworks and most recently an East Coast tour with The Mission In Motion & Stealing O'Neal.
To coincide with the announcement I Am Villain will be releasing their debut 6 track EP " One Night, One Victim" which will be available nationally on Friday February 11th via Taperjean/ shock and features the single " Frankly Dear, I Just Don't Give A Damn" which has received an overwhelming response by both media and fans alike.
Additionally the EP features guest vocals from Brett Islaub ( The Mission In Motion), Chris Scott (Stealing O Neal) and Jake Bosci (Ellington).

SEARCH FOR TICKETS NOW


| | | | | | | |
| --- | --- | --- | --- | --- | --- | --- |
| 22.Apr.11 | | Easterfest, TOOWOOMBA | | QLD | | |
| | | | | | | |
| --- | --- | --- | --- | --- | --- | --- |
| 22.Apr.11 | | The Gaelic Theatre, Surrey Hills | | NSW | | |
| | | | | | | |
| --- | --- | --- | --- | --- | --- | --- |
| 24.Apr.11 | | Strawberry Jam Festival, ALBANY | | WA | | |
| | | | | | | |
| --- | --- | --- | --- | --- | --- | --- |
| 26.Apr.11 | | The Harp Hotel, WOLLONGONG | | NSW | | |
| | | | | | | |
| --- | --- | --- | --- | --- | --- | --- |
| 28.Apr.11 | | The National Hotel, GEELONG | | VIC | | |
| | | | | | | |
| --- | --- | --- | --- | --- | --- | --- |
| 29.Apr.11 | | The Evelyn Hotel, FITZROY | | VIC | | |
| | | | | | | |
| --- | --- | --- | --- | --- | --- | --- |
| 30.Apr.11 | | Fowlers Live, ADELAIDE | | SA | | |