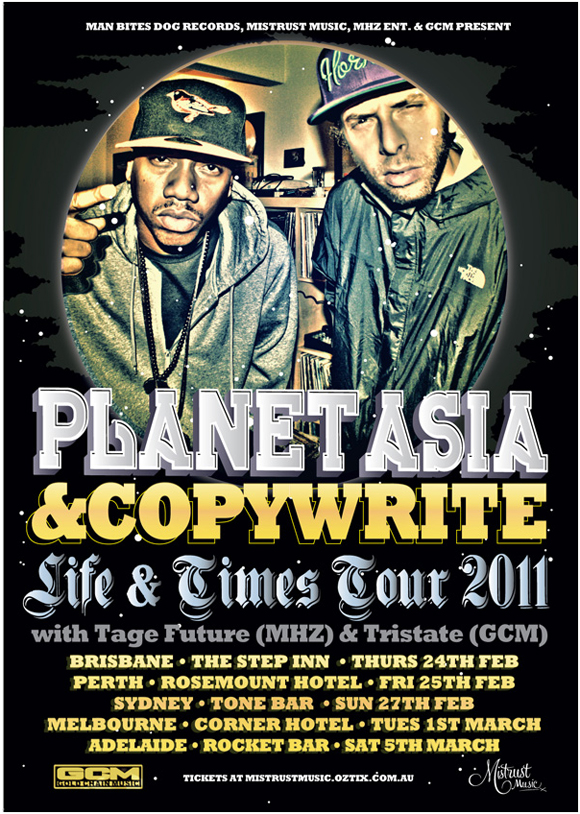 Man Bites Dog Records, Mistrust Music, MHZ ENT. & GCM Present
PLANET ASIA & COPYWRITE
Planet Asia and Copywrite – Life and Times Tour 2011
Californian underground MC Planet Asia teams up with fellow Hip Hop purveyor Copywrite for an Australian tour showcasing their fine talent and lyrical expertise. Both well respected artists in their field, they have collaborated with the likes of Linkin Park, Sean Price, Talib Kweli, Tupac, Ghostface Killah and between them have been nominated for a Grammy Award and won Source Magazine Awards and an Ohio Hip Hop Award.
Underground Hip Hop mainstay Peter William Nelson, aka Copywrite, hails from Columbus, Ohio. As well as being the grandson of the late singer Skip Nelson, a member of the Glenn Miller Band, he is a founding member of the MegaHertz (MHz) crew. In 1999 he teamed up with Cage to form the Hip-Hop supergroup The Weathermen. Copywrite eventually diverged from MHz and in 2000 he and RJD2 joined forces with Rawkus Records to roll out his debut single "Holier Than Thou."
In 2004 Copywrite won Jay-Z and 50 Cent's "Roc the Mic" MC battle. As the champion, he declined anoffer to sign onto Roc-A-Fella producer, Just Blase's Fort Knox Imprint. Also in 2004, he released Cruise Control Mixtape: Volume 1 and subsequently split from The Weathermen.
In 2007, his mixtape The Jerk: Volume 0 was released and included guest appearances by artists such as Crooked I, Killah Priest, Thirstin Howl III and Catalyst, and featured production from the late J Dilla, , platinum producers Cool & Dre, and more. Copywrite's catalogue of poetic chaos increased when his second official album, The Life and Times of Peter Nelson, dropped on Man Bites Dog Records in 2010. Collaborations included Sean Price, Royce da 5′9″ and members of The O Dot crew.
Planet Asia has churned out massive hits and singles since the 1990s which has attracted the attention of numerous critics and media outlets. Hailing from Fresno, California, he has a knack for expressing words in vividly poetic lyrical detail. He's been rapping for decades and has watched Hip Hop grow since his childhood.
After a series of popular singles released by a number of record labels including Stones Throw and ABB, he recorded the smash album How the West Was One in 2001 with Rasco under the group name Cali Agents. The Source magazine honored Planet Asia with First Round Draft Pick and Independent Album of the Year awards. He quickly followed with the major hit "W," a West Coast anthem collaboration with fellow hip hop star Mystic, which received a Grammy Nomination in 2002.
Following a brief stint on Interscope Records, he signed to Avatar Records and dropped his blistering debut album The Grand Opening in 2004. The Source once again recognized Planet Asia's remarkable talent, as he took home the Independent Album of the Year award for the second time.
He continues to work with some of the largest names and producers in the industry, including Ghostface Killah, Talib Kweli, Kurupt, Bun B, and Linkin Park, creating albums, singles, and mixtapes which consistently draw fans in to his confidence dripping style. In 2007, Planet Asia released "The Jewelry Box Sessions: The Album" on Gold Chain Music. The album featured the single "Havin' Things". The following year, he released the 'Pain Language' album with one of Hip Hop's all-time great producers, DJ Muggs of Cyprus Hill. In 2010, Planet Asia released the single 'Up All Nite' featuring Copywrite.
Witness the charisma and wordplay of these two talented artists as they hype you up and get your heart pumping on tour together in Australia in February and March. Support from Tage Future and TriState.

SEARCH FOR TICKETS NOW


| | | | | | | |
| --- | --- | --- | --- | --- | --- | --- |
| 24.Feb.11 | | The Step Inn, BRISBANE | | QLD | | |
| | | | | | | |
| --- | --- | --- | --- | --- | --- | --- |
| 25.Feb.11 | | Rosemount Hotel, PERTH | | WA | | |
| | | | | | | |
| --- | --- | --- | --- | --- | --- | --- |
| 01.Mar.11 | | Corner Hotel, MELBOURNE | | VIC | | |
| | | | | | | |
| --- | --- | --- | --- | --- | --- | --- |
| 05.Mar.11 | | Rocket Bar, ADELAIDE | | SA | | |