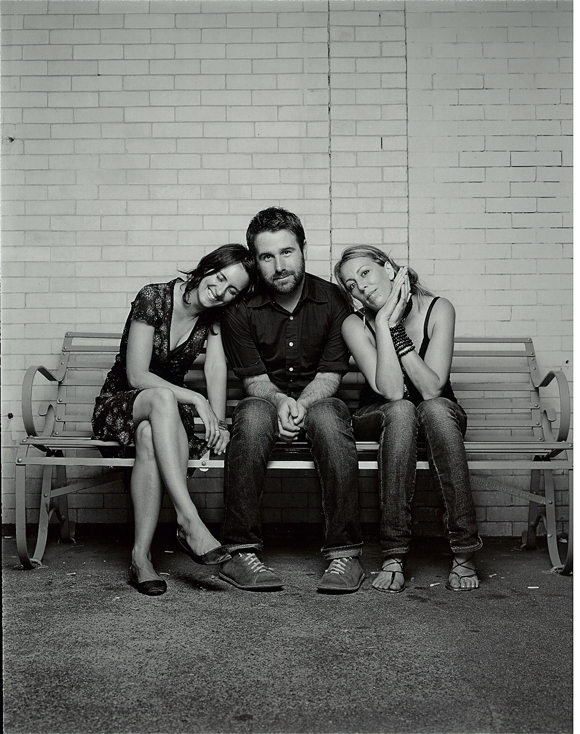 Time Off & Jarrah Records present

THE WAIFS
The Waifs created their career in music on stages in every city and country town around Australia. To mark the release of their sixth studio album, 'Temptation', they will tour the nation to many of their favourite old haunts.
The Waifs have, through their various personal journeys, all ended up living in the USA. So what was once a regular addition to the music fans calendar in their homeland, has become a rare treat. With six studio albums, two live albums, multiple ARIA Awards, countless festival appearances and over half a million albums sold locally, it will have been two years since they played to Australian fans, The Waifs will no doubt be a welcomed addition to the summer tour schedule in 2011.
Temptation is due in store early March 2011, released independently through Jarrah Records and MGM. The Waifs will be supported on all shows on the East Coast by amazing WA soulstress Mama Kin who is forging a name in her own right for her stomping piano and swampy beats.
Catch them here when they tour nationally through February and March 2011.
SEARCH FOR THE WAIFS TICKETS NOW
| | | | | | | |
| --- | --- | --- | --- | --- | --- | --- |
| Tue.22.Feb | | Moruya Memorial Hall, MORUYA | | NSW | | |
| | | | | | | |
| --- | --- | --- | --- | --- | --- | --- |
| Wed.23.Feb | | Anita's Theatre, WOLLONGONG | | NSW | | |
| | | | | | | |
| --- | --- | --- | --- | --- | --- | --- |
| Thu.24.Feb | | Canberra Theatre Centre, CANBERRA | | ACT | | |
| | | | | | | |
| --- | --- | --- | --- | --- | --- | --- |
| Sat.26.Feb | | Enmore Theatre, SYDNEY | | NSW | | |
| | | | | | | |
| --- | --- | --- | --- | --- | --- | --- |
| Sun.27.Feb | | Civic Theatre Newcastle, NEWCASTLE | | NSW | | |
| | | | | | | |
| --- | --- | --- | --- | --- | --- | --- |
| Tues.01.Mar | | The Northern, BYRON BAY | | NSW | | |
| | | | | | | |
| --- | --- | --- | --- | --- | --- | --- |
| Wed.02.Mar | | Nambour Civic Centre , NAMBOUR | | NSW | | |
| | | | | | | |
| --- | --- | --- | --- | --- | --- | --- |
| Thur.03.Mar | | The Tivoli, BRISBANE | | QLD | | |
| | | | | | | |
| --- | --- | --- | --- | --- | --- | --- |
| Sat.05.Mar | | Old Broadwater Farm, BUSSELTON | | WA | | |
| | | | | | | |
| --- | --- | --- | --- | --- | --- | --- |
| Sun.06.Mar | | Castelli Estate, DENMARK | | WA | | |
| | | | | | | |
| --- | --- | --- | --- | --- | --- | --- |
| Tues.08.Mar | | Performing Arts Centre, MANDURAH | | WA | | |
| | | | | | | |
| --- | --- | --- | --- | --- | --- | --- |
| Wed.09.Mar | | Fremantle Arts Centre, FREMANTLE | | WA | | |
| | | | | | | |
| --- | --- | --- | --- | --- | --- | --- |
| Thu.10.Mar | | Astor Theatre, PERTH | | WA | | |
| | | | | | | |
| --- | --- | --- | --- | --- | --- | --- |
| Sat.12.Mar | | Port Fairy Folk Festival, PORT FAIRY | | VIC | | |
| | | | | | | |
| --- | --- | --- | --- | --- | --- | --- |
| Sun.13.Mar | | Port Fairy Folk Festival, PORT FAIRY | | VIC | | |
| | | | | | | |
| --- | --- | --- | --- | --- | --- | --- |
| Tues.15.Mar | | The Gov, ADELAIDE | | SA | | |
| | | | | | | |
| --- | --- | --- | --- | --- | --- | --- |
| Thu.17.Mar | | The Forum, MELBOURNE | | VIC | | |
| | | | | | | |
| --- | --- | --- | --- | --- | --- | --- |
| Sat.19.Mar | | Blue Mountains Folk Festival, KATOOMBA | | NSW | | |
| | | | | | | |
| --- | --- | --- | --- | --- | --- | --- |
| Sun.20.Mar | | Blue Mountains Folk Festival, KATOOMBA | | NSW | | |
| | | | | | | |
| --- | --- | --- | --- | --- | --- | --- |
| Mon.21.Mar | | Moncrieff Theatre, BUNDABERG | | QLD | | |
| | | | | | | |
| --- | --- | --- | --- | --- | --- | --- |
| Wed.23.Mar | | James Cook University Uni Club, TOWNSVILLE | | QLD | | |
| | | | | | | |
| --- | --- | --- | --- | --- | --- | --- |
| Thu.24.Mar | | Tanks Arts Centre, CAIRNS | | QLD | | |