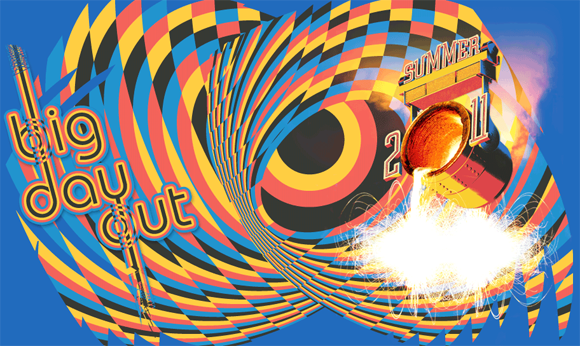 BRING A FRIEND FOR FREE: YIPPEE!!!!
THURSDAY JANUARY 27TH SYDNEY BIG DAY OUT only....
That's right, all ticket holders for the Sydney Thursday January 27th BDO 2011 event will be allowed to bring a friend for free, no tricks, no gimmicks.
Very rarely does an opportunity of this scale become possible for a festival to thank its supporters.
The high demand for the Jan 26th Australia Day show combined with the overwhelming number of international tours and events this summer has necessitated a choice to be made for the good of the event.
Because our audience is such a valued part of the show, we felt you deserved a reward for 18 years of support.
So, if you couldn't get the day off work, or couldn't afford a ticket this year, or missed out in Gold Coast or Melbourne, we are offering to everyone who's bought a ticket or buys a ticket to the Sydney Thursday January 27th BDO 2011 the right to bring a friend.
There will not be a ballot, these are the final ticket sales. A 4 ticket limit is in place.
For those with tickets to the first show on Australia Day, please accept this as a plus, not a minus: You & a friend have a chance to catch the acts you missed the 1st day. For half price!
There are no forms to fill in, all that is required is that you have your guest with you at the ticket trip point on the day. All the same conditions of sale and admission apply to you and your guest, so please check your ticket or our website for details.
Merry Xmas from the Big Day Out!!!!
NB: This offer does not include Guest tickets.
To help with general queries, here are some basic Q & As:
Q: Do I need to have the person with me?
A: Yes, they will need to be with you at the ticket trip point at entry.
Q: Can I meet them later to let them in?
A: Not if you are already in, once your ticket is scanned the offer is void.
Q: Can I swap my Australia Day ticket for the Jan 27 show?
A: No.
Q: Will there be tickets on the day?
A: Not if it sells out in advance.
Q: Is there a meeting point outside the entry?
A: Best chose a location away from the main entry to meet up.
Q: Are there any pass outs?
A: No

BIG DAY OUT 2011 FEATURING:
TOOL, RAMMSTEIN, IGGY AND THE STOOGES, M.I.A, JOHN BUTLER TRIO, GRINDERMAN, WOLFMOTHER, LCD SOUNDSYSTEM, BLOODY BEETROOTS DEATH CREW 77, CRYSTAL CASTLES, LUPE FIASCO, PRIMAL SCREAM SCREAMADELICA LIVE, THE BLACK KEYS, DEFTONES, BLISS N ESO, ANGUS & JULIA STONE, PLAN B, PNAU, DIE ANTWOORD, EDWARD SHARPE & THE MAGNETIC ZEROS, BOOKA SHADE DJs, ANDREW W.K., THE JIM JONES REVUE, BIRDS OF TOKYO, LITTLE RED, GYROSCOPE, VITALIC, CSS, RATATAT, AIRBOURNE, DEAD LETTER CIRCUS, BLUE KING BROWN, THE NAKED & FAMOUS, OPERATOR PLEASE, CHILDREN COLLIDE, GYPSY AND THE CAT, WILL STYLES, LOWRIDER, SAMPOLOGY, KIDS OF 88, KID KENOBI & MC SHURESHOCK.
SEARCH FOR BIG DAY OUT TICKETS NOW
| | | | | | | |
| --- | --- | --- | --- | --- | --- | --- |
| Fri.21.Jan | | Big Day Out 2011, AUCKLAND | | NZ | | |
| | | | | | | |
| --- | --- | --- | --- | --- | --- | --- |
| Sun.23.Jan | | Big Day Out 2011, GOLD COAST | | QLD | | |
| | | | | | | |
| --- | --- | --- | --- | --- | --- | --- |
| Wed.26.Jan | | Big Day Out 2011, SYDNEY #1 | | NSW | | |
| | | | | | | |
| --- | --- | --- | --- | --- | --- | --- |
| Thu.27.Jan | | Big Day Out 2011, SYDNEY #2 | | NSW | | |
| | | | | | | |
| --- | --- | --- | --- | --- | --- | --- |
| Sun.30.Jan | | Big Day Out 2011, MELBOURNE | | VIC | | |
| | | | | | | |
| --- | --- | --- | --- | --- | --- | --- |
| Fri.04.Feb | | Big Day Out 2011, ADELAIDE | | SA | | |
| | | | | | | |
| --- | --- | --- | --- | --- | --- | --- |
| Sun.06.Feb | | Big Day Out 2011, PERTH | | WA | | |

Need your live music fix ?
Buy Tickets now!

Search for SOUNDWAVE FESTIVAL TICKETS
Touring WA, VIC, NSW, SA, QLD Feb 2011

Search for FUTURE MUSIC FESTIVAL TICKETS
Touring WA, VIC, NSW, SA, QLD Feb/March 2011

Search for SUMMAFIELDAYZE TICKETS
Sunday 2nd January, Doug Jennings Park, Main Beach, Gold Coast

Search for GOOD VIBRATIONS FESTIVAL TICKETS
Saturday 19th February, Parklands, Gold Coast