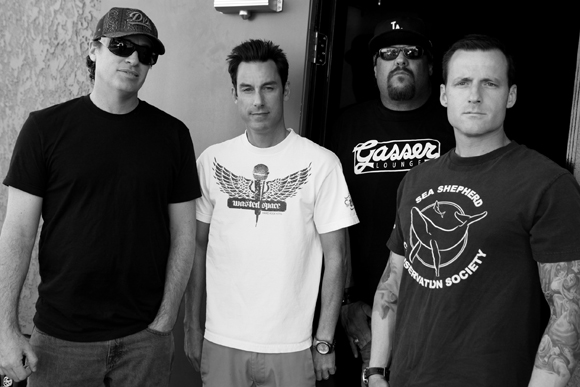 A punk rock Hall of Fame band if there ever was one, the story of PENNYWISE is hardly done.
With a brash new chapter of the band's story unfolding before our very eyes. PENNYWISE doesn't play by the rules; it plows straight ahead and makes its own. Its relentless, in-your-face, middle finger in the air, anthem-chanting sound has never wavered one iota.
The legendary Hermosa Beach foursome are set to return to Australia with their bullshit detectors on high… get set for PENNYWISE at their explosive best and set for detonation. Get the message or get out of the way, fuckers.
Long revered as one of punk rock's leading forces, MILLENCOLIN is celebrating the 10 year anniversary of their seminal classic, 'Pennybridge Pioneers'; and will be bringing their well oiled machine to Australia to play the album from start to finish (and some classics from other albums thrown in for good measure).
"This tour is going to be so much fun! It was such a long time since we played some of the songs, it's almost going to feel like new stuff to us" says guitarist Erik Ohlsson
Revered as a modern day classic by many who grew up in the late-90's and early-2000's, 'Pennybridge Pioneers' has the ability to "uncover the passion you have for life and assist you in reliving your youthful glory years, all while breathing new life into the punk rock landscape for years to come." – Absolute Punk
"I have the distinct feeling that Pennybridge Pioneers is going to be a real grower, improving with age and achieving 'essential' status." – Rock Sound
SEARCH FOR PENNYWISE TICKETS

Need your live music fix ?
Buy Tickets now for other shows at OzTix!

Search for SOUNDWAVE FESTIVAL TICKETS here
Touring WA, VIC, NSW, SA, QLD Feb 2011

Search for SONIC FORGE FESTIVAL TICKETS here
30+ BANDS. 3 STAGES. 12 HOURS OF METAL!
The Espy Hotel, St Kilda, Saturday 5th December

Search for FUTURE MUSIC FESTIVAL TICKETS here
Touring WA, VIC, NSW, SA, QLD Feb/March 2011

Search for OPEN ARMS FESTIVAL TICKETS here
Saturday 20th November, Coffs Harbour, NSW

Search for JOEY CAPE (OF LAGWAGON) TICKETS here
Touring Sydney and Melbourne in solo mode this December

Search for SUMMAFIELDAYZE TICKETS here
Sunday 2nd January, Doug Jennings Park, Main Beach, Gold Coast

Search for GOOD VIBRATIONS FESTIVAL TICKETS here
Saturday 19th February, Parklands, Gold Coast

Search for THAT FESTIVAL TICKETS here
Saturday 20th November, Cabarita, NTHN NSW

Search for PEATS RIDGE FESTIVAL TICKETS here
Glenworth Valley, NSW, New Years Eve