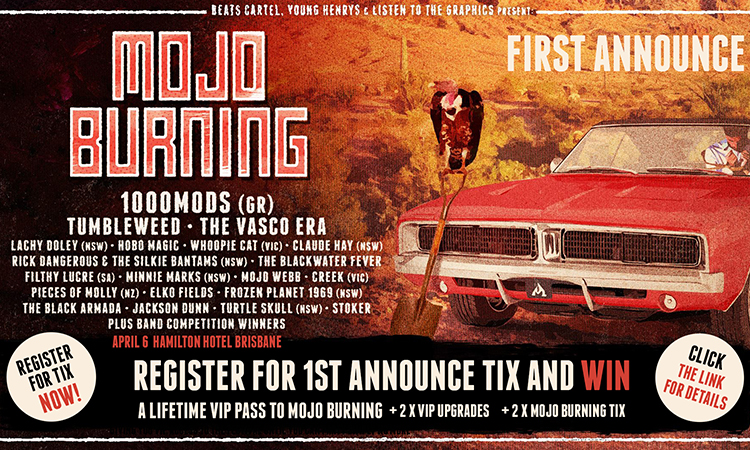 Brisbane's biggest celebration of Blues, Rock and Psych
MOJO BURNING
is back for it's 6th and largest edition, Saturday 6 April 2019 at the
Hamilton Hotel
.
With
30 BANDS OVER 3 STAGES
and 12 hours,
Mojo Burning
delivers an intense palate of AV stimulus, offering punters some of the best names in the business, rising stars and an all out cosmic blowout amongst friends.
The 2019 Mojo Burning FIRST ANNOUNCE includes:1000MODS (GR)
TUMBLEWEED
THE VASCO ERA
Lachy Doley (NSW)
Hobo Magic
Whoopie Cat (VIC)
Claude Hay (NSW)
Rick Dangerous & The Silkie Bantams (NSW)
The Blackwater Fever
Filthy Lucre (SA)
Minnie Marks (NSW)
Mojo Webb
Creek (VIC)
Pieces of Molly (NZ)
Elko Fields
Frozen Planet 1969 (NSW)
The Black Armada
Jackson Dunn
Turtle Skull (NSW)
Stoker
+ Band Competition Winners and more
Register to WIN a Mojo Burning Lifetime VIP Golden Ticket, VIP Upgrades, General Admission Tickets and more - https://arep.co/p/mb-presale
Full festival info at www.mojoburning.com. Limited capacity and sold out in 2018 so get in early! Mojo never disappoints.
ALL KILLER NO FILLER
Tickets On Sale Now
---
---