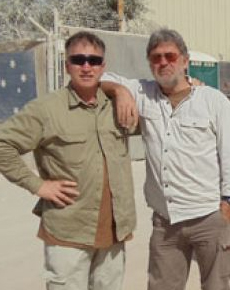 Buy Tickets
Acclaimed Australian songwriter John Schumann is set to team up with Redgum and The Vagabond Crew band mate Hugh McDonald this Thursday night for an exclusive show at The Triffid in Brisbane.

After the release of his nationally-beloved chart-topping track I Was Only 19 in 1983, Schumann experienced immense success with both bands and now he and McDonald will take to the stage together yet again to perform the one-off unplugged show.

"Bullet (Hugh's band nickname) and I love playing in this format – and we don't get to do it nearly enough," Schumann said.

"We love the Vagabond Crew - it's our first love - but the opportunity to play unplugged and seated in an intimate mode is too good to pass up.

"I get to talk about the songs and life in general in a way that the full band doesn't really allow. These one-off, unplugged performances take us back to where it all started – some good songs, some passionate delivery all interspersed with stories and bullshit."

The musicians will perform tracks from Vagabond Crew albums Lawson and Behind The Lines, as well as solo songs and Redgum hits.
Tickets On Sale Now