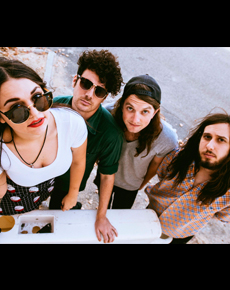 Buy Tickets
After releasing the first single I Don't Think You Like Me off their Figurine EP earlier this year, Tired Lion have dominated Australian radio (high rotation on Triple J for 8 months straight). They recorded a 'Like a Version' mash-up of Violent Soho's Saramona Said and the Smashing Pumpkins' 1979, taken out Triple J's J Award for Best New Band, WAMI for best rock song, won Channel V's Discover competition, lapped Australia multiple times with Spiderbait, Gyroscope, The 1975, Kingswood, Luca Brasi and British India, played Groovin The Moo, Music Matters Live, Festival Of The Sun & Splendour In The Grass and SOLD OUT all shows on their Figurine EP tour!

"We're all about the raw honesty in the music we make. If you sit back and take in the energy of what we are playing and what it's all about, it's a direct view into the looking glass that is collectively our lives - be it happy, sad or confusing. We're passionate about bringing to people a fresh take on what is a nostalgic sound, keeping the guitars loud and trying to evoke some kind of feeling for the listener with dynamics and melody."

Fronted by the enigmatic Sophie Hopes, Tired Lion's infectious melodies are brought forth with raw honesty and intensity, calling back to the rich tradition of strong Australian front women. Acting as the perfect ying to her yang, Sophie is backed by Matt Tanner, Ethan Darnell and Nick Vasey who play with passion, precision and a 'take no prisoners' approach, making Tired Lion a powerful to keep your eyes (and ears) on.
Tickets On Sale April 14 (May Shows Only)