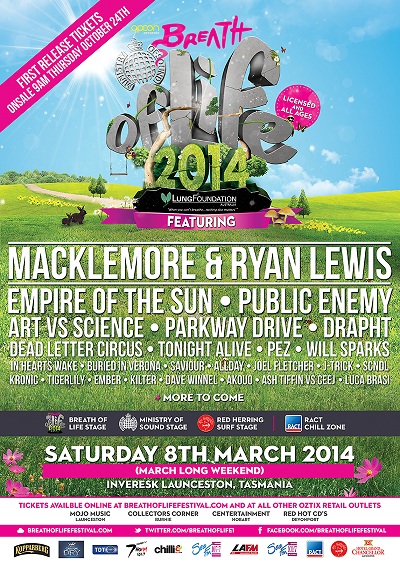 OPCON presents
Breath Of Life
First Lineup Announcement!
Breath Of Life is back and it's bigger and better than ever!

Finally it's time to drop the first round of massive acts for the 2014 edition of Breath Of Life.

Breath Of Life 2014 will feature The Breath Of Life Stage, Ministry Of Sound Stage, Red Herring Surf Stage & The RACT Chill Zone.

Each and every year Breath Of Life festival has a few promises to keep:

1. Create a truly iconic music festival for Tasmania;
2. Deliver awareness for Lung Foundation Australia and help them promote good lung health;
3. Raise some much needed funds to assist Lung Foundation Australia's many valuable projects.

All you need to do to make it happen is grab yourself a ticket, get along to BREATH OF LIFE 2014 and have the best day of your life!

Leading out our first announcement and headlining Breath Of Life 2014 is...


MACKLEMORE & RYAN LEWIS
The boys broke new ground by independently releasing their debut full-length album, The Heist, which shot into the #1 spot on iTunes and debuted at #2 on the US Billboard charts, without the support of a traditional record label. Their single 'Thrift Shop' spent six weeks at #1 on the Billboard Hot 100 chart and seven weeks at the top of the ARIA Singles Chart (7x Platinum), with help from a wildly popular music video (400 million+ views on YouTube). Their follow up single 'Same Love' - a song in support of marriage equality - spent five weeks at #1 on the ARIA Singles Chart.

EMPIRE OF THE SUN
Two Sydney boys created a vision that seemed to come from an alternative reality - a post-apocalyptic psychedelic adventure known as EMPIRE OF THE SUN. The resulting album Walking On A Dream went on to sell a million-plus copies worldwide, spawning the singles 'We Are The People', 'Walking On A Dream', 'Standing on the Shore', 'Without You' and 'Half-Mast'. Eight ARIA Awards (including Album of The Year), two BRIT Award nominations (including Best International Album) and countless other accolades followed. Their follow up album Ice On The Dune takes the conceptual vision of global smash Walking On A Dream and goes widescreen. In hyper-real HD. With surround sound.

PUBLIC ENEMY
In early 2012, Public Enemy kicked off their 25th anniversary by staging a free concert in downtown Los Angeles' notorious Skid Row. Just a few blocks away at the Grammy Museum, a special exhibit was being installed in their honour. No other group could possibly mark a career milestone quite like this. Just as compelling as when their startling first single 'Public Enemy #1' was released in 1987, Public Enemy have never stopped urging to fight the power, as their artistry meets with unwavering critical acclaim and legions of fans worldwide.

PARKWAY DRIVE
For ten years now, they have dared to go where no Australian hardcore band has gone before - Gold-selling albums, Platinum-selling DVDs, sold-out tours around the world, and countless visits to faraway lands, including unlikely spots such as India, China, Southeast Asia, Central and South America.

ART VS SCIENCE
Sydney three-piece Art vs Science are widely acknowledged to be one of Australia's best and most popular live acts. Their accolades are many - Platinum and Gold certifications for their two EPs; two top 10 entries in triple j's Hottest 100 (for 'Parlez-Vous Francais?' and 'Magic Fountain'); and a #2 ARIA Chart debut for their ARIA Award-winning album The Experiment. But it is their raucous energy and undeniable sense of fun that has won over countless fans from all over the country and beyond. With a new album and single just in time for BOL its looks like another big year ahead for Art vs Science.

DRAPHT
Hailing from the West Coast of Australia, weighing in at considerably less than most, yet with an enormous bottom end, it's Drapht - wordsmith, re-arranger, perfectionist, and the man who delivered one of THE albums of 2011, The Life of Riley. The Life of Riley debuted at number one on the ARIA charts, took out the ARIA Award for Best Urban Release of 2011, and has achieved Gold status on the ARIA Album Chart - all this while remaining solely independent, with the album released on Drapht's own label The Ayems with distribution through Sony Music.

DEAD LETTER CIRCUS
DLC have ascended to the forefront of alternative rock, their fresh take striking a chord locally and abroad, signing deals with Universal Publishing, The Agency Group for North America, The End Records in the USA, Triple Vision in Japan and UNFD in Australia. And while they may not be easily labelled, there is a certainty amongst the creative confusion... Just one spoonful of Dead Letter Circus will leave you hungry for more.

TONIGHT ALIVE
A band brimming with energy onstage and off - bursting with stories from the road and with a lust for life that overflows into their explosive live shows. Today they're a family so close-knit that it seems almost unthinkable that there was a time when the band didn't know each other, but it was a mutual passion for music that caused the members to gravitate towards each other through their local scene, and ultimately brought the band that we know today together.

PEZ
Following the success of The Festival Song (which peaked at #14 on the ARIA Australian Singles chart, #1 on the AIR singles chart and hit #7 on the triple j Hottest 100 in 2008), touring took hold, and PEZ saw himself playing to massive crowds on festivals like Pyramid Rock to the Bliss n Eso tour selling out rooms all over the country. PEZ has a couple of tricks up his sleeve this time around, and it's fair to say that the new album Don't Look Down may contain some unexpected surprises: "There will be a few other collaborations on the album that I'm working on and a few I want to happen... but you'll have to wait and see." The new single One Life will give you a taste of what's to come and hit radio with high rotation on triple j and won Ripe Clip on Channel [V].

WILL SPARKS
The 20-year-old DJ and producer from Melbourne who has quickly rising the ranks of the electronic dance music horizon to become Australia's newest international DJ superstar. Voted #2 DJ in Australia at the most recent ITM Dance Music Awards, Will is responsible for hits 'Ah Yeah' and 'Bring It Back', not to official remixes for Robin Thicke, Laidback Luke & Hardwell and loads more.
Being hugely successful on his home turf, the young talent is now looking to take over the global EDM scene.
And rounding out the first announcement...
ALLDAY, IN HEARTS WAKE, BURIED IN VERONA, SAVIOUR, JOEL FLETCHER, SCNDL, KRONIC, J-TRICK, TIGERLILLY, EMBER, KILTER
along with Tasmania's own
Luca Brasi, Akouo, Ash Tiffen
&
Ceej
.
Tickets On Sale October 24th!