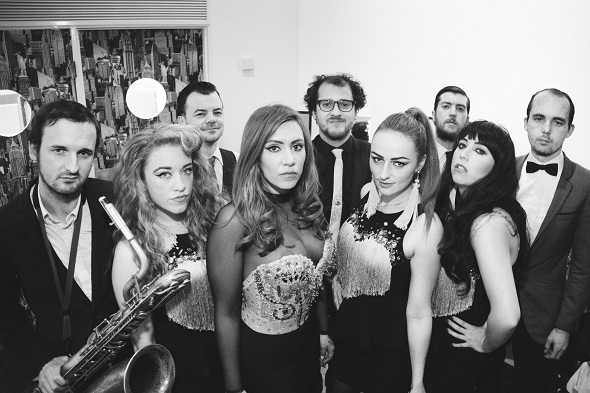 Billions Australia presents
Clairy Browne & The Bangin' Rackettes
Aus Shows Announced!
Clairy Browne & the Bangin' Rackettes are currently setting off on their third USA tour in the space of a year with a run of shows that range from a Halloween Costume Ball at an LA Art Gallery, to a residency in a casino in Vegas and playing the legendary venue, the House of Blues in New Orleans.

Through November CBBR will be settling in to Nashville, Tennessee for a few weeks to work on their next album with producer Andrija Tokic (Alabama Shakes, Clear Plastic Masks) before returning to Australia for the summer to test run some of these new sounds on audiences around the country.

Rounding out what has been a huge year for the band, they will hit the ground running with a string of shows across Adelaide, Perth, Brisbane, Sydney, Melbourne as well as stopping in at Meredith Music Festival!

Joining them in support are Miles and Simone, an unlikely country duo from Melbourne. Miles O'Neil - tall with a steady baritone punctuates their stories with the occasional plunk of a banjo and Simone Page Jones - a blonde vision, provides super sweet harmonies, her crystal clear tones bringing it all to life.

Live Clairy Browne & the Bangin' Rackettes are a choreographed machine driven by the engines of drums, brass, soulful vocals, shimmering harmonies and handclaps. Becoming known the world over for their mix of old soul, with tinges of hip hop and r'n'b, new and old.

"...love and lust-lorn brutalities break from anything you'd ever hear from Martha Reeves and The Vandelles or The Supremes or even Amy Winehouse. Yes, Baby Caught The Bus has a few sunny, swinging hits you can bop along to (the title track; 'Frankie;' 'I'll Be Fine'), but the songs with teeth - 'Love Letter', the record's first single, 'She Plays Up', 'You Don't Owe Me Nothing' - are the ones that leave bite marks, the kind that bruise and take too long to heal. 'I want to write what I want you to do to me in a letter' is hell of a statement to open the record with, and that's just what Browne belts at the onset/With 'She Plays Up,' Browne takes to the microphone to eviscerate the other woman that's doing her best to thwart a relationship that isn't hers. 'I don't want to lose you/to a floozy who'll use you' she wails as a sinister bass line and creeping percussion overwhelm her, striking a chord that feels completely present in its brashness and no-bullshit mentality. The horns, handclaps and girl group vocals may be common soul staples, but this angst and the fearless desire to cast it out are entirely theirs-and it's one American audiences have been vocally fending for since the Bangin' Rackettes officially landed." - Hilary Hughes, VILLAGE VOICE (5/21/13)

"Watching this band was like discovering the great, long-lost video collaboration between David Lynch and John Waters." NEW YORK MUSIC DAILY
Tickets On Sale NOW!