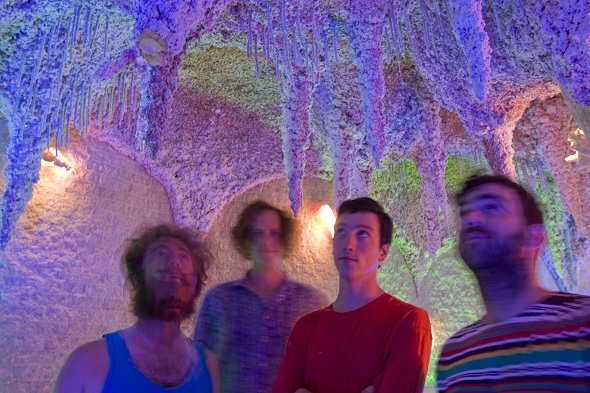 Life Is Noise presents
Cave (USA)
2013 Tour Dates Announced
"At their best, Chicago's Cave boil down familiar but disparate branches of psychedelic rock into a sludgy yet nimble whole" - Pitchfork

Chicago psych-rockers Cave bring their energetic, instrumental grooves to Australia for the first time this December. Formed in 2006, Cave have become masters of slow-burning, relentless build-ups of sound that climax in euphoric releases of hypnotic rhythms. The quartet have the uncanny ability to transport the listener from the comfort of bright, uplifting keyboard melodies and head-nodding beats, to high-energy, cacophonous jams.

"When Cave steps on the gas and keeps driving forward... the sense of infinite open space is awe-inspiring" - The A.V. Club

The band's hypnotic third album, 'Neverendless', released in November 2011, continues in this vein. Each track is a sonic expedition, exploring uncharted territory while maintaining the band's commitment to a dynamic and ever-shifting sound. Cave will flirt with the trippy before exploding with a maze of fuzzy guitar riffs that make the next generation of garage punk bands green with envy.

And on October 15, Cave continue to carve out their chaotic, rhythmic niche with their fourth record, 'Threace'. Unlike the group's previous efforts, 'Threace' is a purely instrumental record that sees the band dabbling in jazz-inflected rhythms while building on their reputation as masters of driving, exotic meditations and crescendos that crash like tidal waves.

" 'Threace' is a throbbing, incandescent trance-rock opus that makes repetition seem like the most worthwhile strategy ever strategized" - The Stranger

Cave bring their electrifying live show to our shores for the very first time this December, with shows in Brisbane, Sydney, Melbourne and Perth.

Threace' will be released on the 18th of October on the Twelve Suns label through Rocket Distribution.
Tickets On Sale NOW!