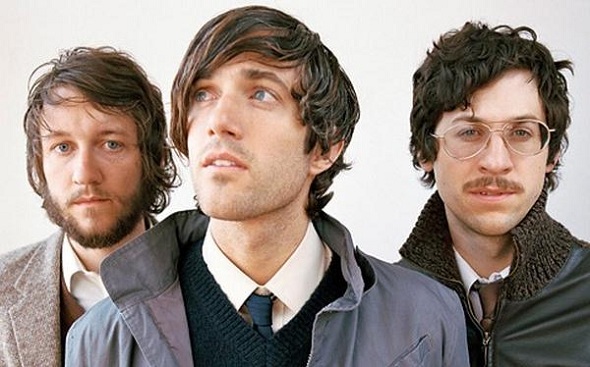 Metropolis Touring and Tombowler present
We Are Scientists
Aus Shows Announced!
Indie rock roars from speakers and stereos worldwide incorporating thoughtful, thunderously epic elements but most importantly, infectious fizzes of sonic intimacy which make you want to stand up from your seat and dance like crazy. There is no mistaking the origin of this eargasmic delight. New York-based legends We Are Scientists are set to head to Australia for a series of shows which are guaranteed to put a smile on every punters face and shake the roof off venues across the country. This is a band guaranteed to blast out "indie dancefloor hits so supersonic that Richard Branson is trying to sell passenger tickets into space on them." (NME)

With four powerful full-length albums to go along with a clutch of memorable singles and EP's, We Are Scientists have progressed in leaps and bounds from their Berkeley college origins to their present internationally recognised success. Renowned not only for infectious indie rock hits but also the quirky sense of humour portrayed through memorable onstage banter, it is in the live arena that We Are Scientists thrive and the world truly gets to appreciate the meaning of fun at their shows.

As soon as the amplifiers are switched on We Are Scientists kick into full gear delivering a powerfully enegetic concert which has been described as featuring elements of sex, dance music, sex, dance music and, er, angular post-punk played by indie geeks (NME). Delivering crowd favourites such as "Nobody Move, Nobody Get Hurt," "After Hours" and "It's A Hit", as well as "Return The Favour" and "Dumb Luck" from the brilliant new "Business Casual" EP, there is no denying the band have won over crowds throughout the land - blowing headline acts off the stage and claiming fans in the process with their "frantic thrashing around the stage" (Music Defined) and incredibly tight sets, leaving audiences spasming with excitement and craving more.

At a We Are Scientists show, one cannot predict what is going to happen onstage, but one thing is for certain, make sure you bring a comfortable pair of shoes because "as the first few notes are played, the whole venue starts jumping up and down." (Clash Music). We Are Scientists bring the party with them wherever they go making it impossible to walk away from their set without feeling an overwhelming sense of happiness and assuredness that what you have witnessed from the American funsters was felt by everyone in the room as well. Self described as delivering "An intimate evening without protection" (As quoted by We Are Scientists - NME) you will not want to miss a beat when the highly addictive bass lines mix with jangly guitars to worm irresistibly catchy songs into your head leaving you craving more and singing along out loud days after you have seen a We Are Scientists show.

Do not miss out when Indie rock extraordinaire We Are Scientists visit Australia for a series of concert experiences guaranteed to give you the time of your life and leave you demanding a return visit as soon as they step offstage. "With what they offer in entertainment value, the only problem is that there are not enough hours in the day for We Are Scientists shows." - Clash Music

So grab your friends and head on down to what will surely be a concert which will inspire and energise the punter through a display of indie rock magic!
Tickets On Sale October 10th!