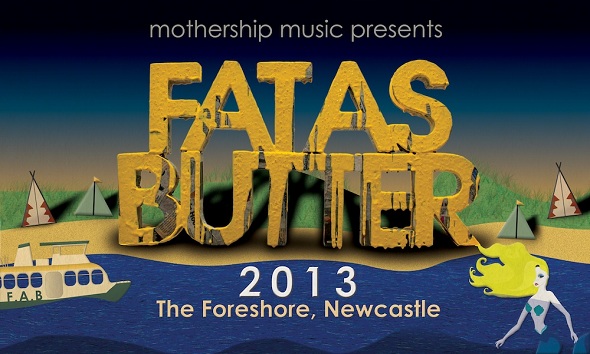 Mothership Events presents
Fat As Butter
New Artists Announced!
Fat As Butter announces their second artist announcement, adding The Rubens, Bluejuice, Glass Towers, Kilter and Super Best Friends to the bill.

The Rubens have fast become festival music favourites. 'My Gun' was nominated for Best Video at the 2012 ARIA Awards and landed at number 10 on triple j's Hottest 100 this year, and their album that reached number 1 on the iTunes chart.

Bluejuice are set to join their fellow 'Act Your Age' collaborators Bliss N Eso on the FAB line up! With a litter of hit singles and beloved albums in their wake, Bluejuice will tear it up with their aggressive but awesomely danceable punk-hop.

They have also announced a partnership with streaming music service Deezer, to deliver fans this year's official Fat As Butter music content. Stream the FAB lineup now on Deezer.

FAB is also the final stage for the Hunter Institute of Mental Healths Youth Rockin' the Black Dog Band Comp. This encourages young people to get thinking and talking about mental health issues with friends, family and networks.

The heats are taking place throughout September, at The Loft Youth Arts and Cultural Centre, with the grand final going down at Lizotte's on October 9 - keep your ears open for further details.

The final bit of tastiness is that the winner of this year's triple j Unearthed FAB competition will be storming the stage with the rest of the line-up - keep your eyes peeled for further deets and dates!


Line-Up

GYM CLASS HEROES [USA]
BLISS N ESO
MATT CORBY
BOY & BEAR
THE RUBENS
BLUEJUICE
PORTER ROBINSON [USA]
DIGITALISM DJ SET [GER]
BOOKA SHADE DJ SET [GER]
MICKEY AVALON [USA]
BOMBS AWAY [LIVE]
BRITISH INDIA
THE ASTON SHUFFLE DJs
COSMO JARVIS [UK]
OWL EYES
GOLD FIELDS DJs
SPIT SYNDICATE
THE HOLIDAYS
PEKING DUK
THE M – MACHINE [USA]
DIALECTRIX
GLASS TOWERS
BATTLESHIPS
WILLOW BEATS
KILTER
SUPER BEST FRIENDS

Tickets On Sale NOW!