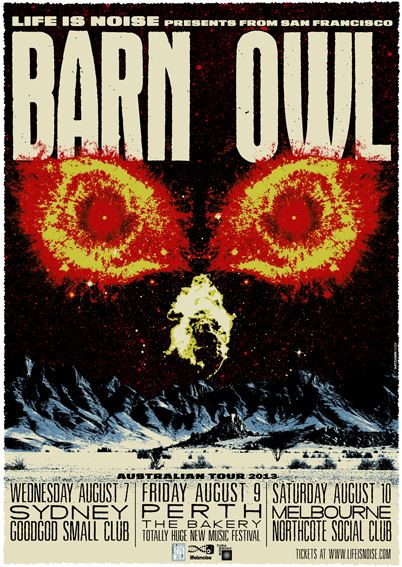 Tura New Music presents
Barn Owl
Totally Huge New Music Festival!
"Barn Owl... creates expansive spaces of meditative delight - drones to get lost in, melodies to slide through, layers to drift among." PITCHFORK

"San Francisco's Barn Owl has long illuminated the shimmering, hypnotic midpoint between blues and minimalism, lately with a touch of Earth's sprawling avant - Americana." TIME OUT

"Barn Owl's music seems custom-made for the sweat lodge or meditation hall. As you listen to an amalgam of tribal percussion, temple bells, cosmic synths, and rustic American transcendentalism, you can practically smell the sweet sage buring. Their music knows no bounds, and as such, is a ritual that everybody can take part in." REDEFINE MAGAZINE

"Barn Owl come across like a spiritualized take on what the cinematic expansiveness of recent Earth output would feel like dissolved in Labradford's sharp gray drones." XLR8R

"In a live setting, Barn Owl offers a distinctly wild pleasure... It's possible that the group's instruments and samples just sound better when they're threatening to max out a PA, or maybe the ritualized quality of submitting to a live performance opens the mind." XLR8R

On the back of their latest album, V, San Francisco guitar-drone duo, Barn Owl is heading to Australia for the very first time in August 2013.

Jon Porras and Evan Caminiti aka Barn Owl have always specialised in devotional darkness, pushing desert rock into previously unexplored, murky territories. They follow in the footsteps of provocative avant-gardists like Alice Coltrane and build on the doom metal foundation planted by Black Sabbath.

They started playing music together after meeting in an American Indian science class in 2005 and realised they had similar backgrounds playing in metal bands and a shared interest in meditative, psychedelic music. It all started happening for Barn Owl in 2010. As well as starting their own label, Electric Totem, the band released three albums - 'Conjurer' (through Rootstrata), 'Headlands' (Important Records) and 'Ancestral Star' after signing to influential label, Thrill Jockey.

The band maintained momentum by touring internationally as well as kicking off 2011 with the 'Shadowland' EP, which was recorded by Phil Manley (Trans Am) and followed it up with the brilliant fulllength 'Lost in the Glare'.

Their latest and fifth record, V, released earlier this year, marks a shift in approach for Barn Owl by augmenting their arsenal of guitars and effects with an array of electronics.

As The Fader aptly describe... "Barn Owl can kick up a pretty massive storm with guitars alone, but for their fifth album, the San Francisco axe duo wanted to make their sound even larger, supplementing their already very expansive range of textures with drum machines and warbly synths. If you listen closely to this first single 'The Long Shadow', it almost sounds like there's an opera singer or two hanging out somewhere behind all the static-y tones and renaissance guitar counterpoint, but it's probably just a keyboard, and in any case, the whole production just sort of swirls into a delirious mountain of guitar skree by the end."

After touring extensively through US cities and the UK and Europe, Barn Owl head to Australia to headline the opening party of Tura New Music's biennial Totally Huge New Music Festival playing with Japan's Haco and Melbourne's Speak Percussion. In Sydney and Melbourne they play Goodgod Small Club and the Northcote Social Club with special guests to be announced.
Tickets On Sale NOW!