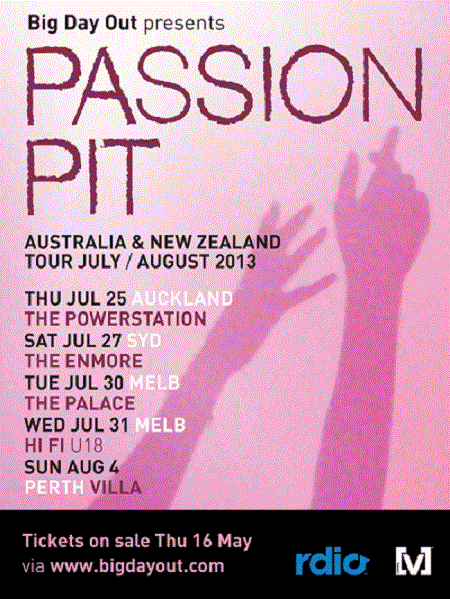 Passion Pit
Splendour Sideshows
Following on from last week's stack of Splendour sideshow announcements, Passion Pit have announced four additional dates for their July visit.

In addition to playing Splendour and Adelaide's Spin Off Festival, the Massachusetts band will play Sydney's Enmore Theatre on Saturday, July 27; The Palace in Melbourne on Tuesday, July 30, followed by an underage show at the Hifi on Wednesday, July 31; and the Villa in Perth on Sunday, August 4.

Regular visitors to our shores Passion Pit were in Australia to play Parklife last year, and before that in 2010 for Splendour. As one FL reviewer observed, main man Michael Angelakos is something of a showman: "Angelakos made it all look so easy, showing true brilliance and the utmost charisma in full flight. Between songs, the frontman was seemingly a stoic shadow of his stage persona - jetlagged or drug-addled, perhaps - but maintained a healthy, appreciated dialogue with his fans throughout their performance."

While Passion Pit are now old hands at touring, however, as little as three years ago they were still finding their feet. Speaking with FL back in 2010 Angelelakos expressed surprise at his band's quick ascent to world-wide fame. "To be frank with you, since it all happened in such a short period of time, everything is overwhelming", he revealed. "Every single step that we take is another step towards this overwhelming extreme. I mean, playing to thousands and thousands and thousands of people in a festival, and then playing to 600 people in a country you've never heard of but the club is sold out, it's a wonderful, scary and interesting experience all in one."


Tickets On Sale NOW!