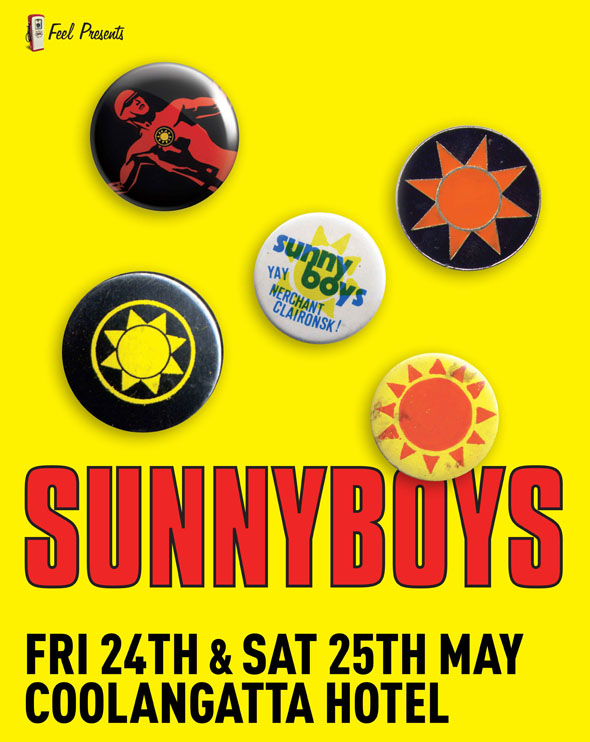 SUNNYBOYS
Home at last...
On April 22nd 2012, for the first time in 21 years, all four original members of Sydney band SUNNYBOYS, walked on-stage at Sydney's Enmore Theatre and performed as guests of the Hoodoo Gurus on their Dig it Up! Invitational.

From the opening chords of little known track As I Walk to the closing notes of the band's biggest hit Alone WIth You, it was as if time stood still. Appearing under the pseudonym Kids in Dust the band played with the same intensity, verve and joy as they had all those years ago. It was emotional and inspired and there wasn't a dry eye in the house.

I cried and all the way through the first song of SUNNYBOYS... then danced and sang for the rest of the day/night... Absolutely brilliant!

Emotional return from the SUNNYBOYS. Not a dry eye in the house. They stole the show. Absolutely brilliant.

For a dude who was too young to see SUNNYBOYS first time around, their set yesterday made my day.

SUNNYBOYS owned it! Welcome back lads!!!!

SUNNYBOYS!!!!!! -

(Audience comments taken from the Dig it Up! facebook page).

Twelve months later and here we are again. This time, with a hugely received national tour as special guests to Elvis Costello under their belt plus a performance at Victoria's Meredith Music Festival, SUNNYBOYS, the Gold Coast's favourite sons (move over Mick and Joel...) will appear under their original moniker as they finally stage a homecoming via two special nights at the Coolangatta Hotel: Friday 24th & Sat 25th May.

The Coolangatta shows will be the first 'hometown' appearance of the original line-up of SUNNYBOYS since 1991 and will serve as the yin to the yang of the band's performance the following week at Sydney's Vivid Festival where, on June 2nd, they will headline the Concert Hall of the iconic Sydney Opera House. That's a long way from their debut show as support to Sydney outfit Lipstick Killers at Chequers Nightclub on August 15th 1980.

Expectations couldn't be much higher for the original line-up of the SUNNYBOYS playing their first Brisbane show for more than 28 years. Expectations met then as the four-piece band: Richard, Jeremy, Peter & Bil (originally from Kingscliff in northern NSW) soared through a set of some of the sharpest power-pop songs you will ever her. Yes they played No Love Around but for this triumphant return love was everywhere. - Noel Engel (Courier Mail)

Most recently the SUNNYBOYS eponymous debut album was listed as no.3 on the all-time greatest Australian Albums list (behind Midnight Oil and Cold Chisel) as voted by listeners of ABC Coast-FM. The same album is listed no.37 in the book 100 Best Australian Albums. Currently that album is being prepared for deluxe reissue later in 2013.

Happy Man, Alone With You, Tunnel Of Love, You Need A Friend, Show Me Some Discipline, Love In A Box - the songs of the SUNNYBOYS are timeless. Always fresh and always fun. Don't miss what has been a long time coming: SUNNYBOYS live @ Coolangatta. Tickets on-sale Wednesday 24th April.

This is the SUNNYBOYS: alive and well in 2012.
Tickets On Sale NOW!