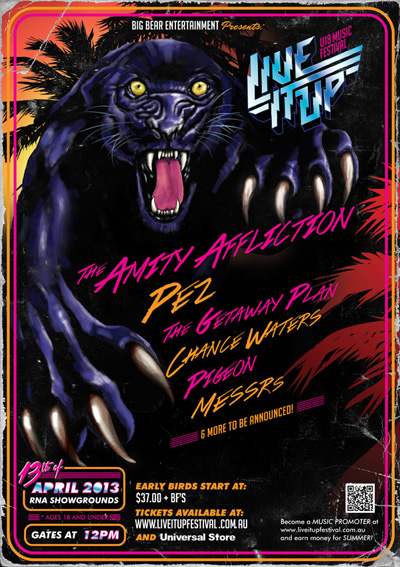 Big Bear Entertainment presents
lIVE IT UP MUSIC FESTIVAL
"What started as an idea to put some great bands on and create Brisbane's best 18 & under music event has gotten out of hand. We admit it. Hell, we even told you we'd done our final announcement.

But with ticket sales surprising organisers, the decision has been made to take the event to the next level and increase capacity, with the addition of a second stage and the announcement of new acts on the bill Northlane, Bombs Away and Tom Piper.

Acting on pleas from fans on Facebook, Live It Up have given Northlane a prime place on the line-up, satisfying their quickly growing under 18 fan base and showing the power of social media.

Bombs Away and Tom Piper, some of Australia's premier dance acts will add a new dimension to the event with a DJ line-up and the winners of the Live It Up under 18s band comp still to be announced. Voting on the bands to open the festival will take place from late this week on the Live It Up Facebook page giving under 18 artists a rare opportunity to play in front of thousands of their peers.

"We have been blown away by the response and it's never too late to make a big event even bigger," said festival organiser Zanda Strofield. "Live It Up is about providing great music and a day out for teens to close the Easter holidays in style. Whether you want to dance, rock out or mosh, Live It Up is here for you."

"18 and under shows are such an important part of what we do. An event like Live It Up is an awesome addition to Brisbane's calendar because it gives our younger fans an opportunity to get out and party with us!" said The Amity Affliction's Ahren Stringer.

The drug and alcohol free event will provide a real festival experience like no other in Brisbane - without the tools."


The Amity Affliction
Northlane
Bombs Away
Chance Waters
Pez
The Getaway Plan
Tom Piper
Dune Rats
The Griswolds
Pigeon
MESSRS
Sheppard
His Merry Men
+ DJs and the LIVE IT UP 18 and under band comp winners
Tickets On Sale NOW!